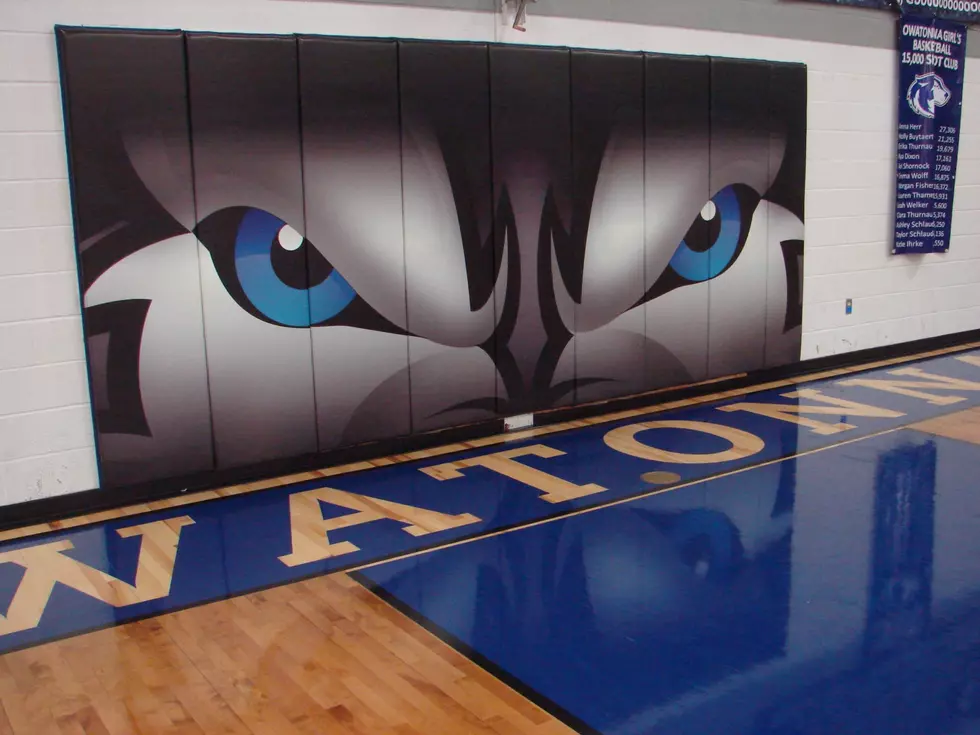 Huskies Tennis Wins Playoff Opener; Softball Knocks Off No.1 Rated Team
Roy Koenig/Townsquare Media
Owatonna High School teams notched a pair of impressive victories Tuesday. The boys tennis team beat Lakeville North 6-1 in the Section 1AA tournament to reach the semifinals for the third straight year. Girls softball rallied with three runs in the bottom of the seventh inning for a Big Nine win over No. 1 ranked Mankato West.
On the OHS tennis courts, the Huskies swept the doubles matches and took three-out-of-four in singles. Coach Curt Matejcek said, "Really nice win today against a quality team. That puts us back into the section final four the last three years."
Owatonna's doubles wins came with Charlie Tucker/Connor Whalen 6-2, 6-1; Aiden Engel/Thomas Herzog 6-1, 6-1; Nils Gantert/John Preifer 7-6, 4-6, 10-4. Singles winners were Lincoln Maher 6-1, 6-4; Mac Pilcher 6-0, 6-1; Liam Smith 7-6, 6-4. OHS improves to 13-3 overall. Semifinals are scheduled for Thursday. Check the bracket here.
Huskies softball walked-off top-ranked Mankato West 5-4 with a three-run bottom of the seventh. The Scarlets had plated two in the top of the inning to break a 2-2 tie. Owatonna's rally started with one out.
Coach Jeremy Moran provided this account, "Ana Laduke hit a double to the fence followed by a Parris Hovden blast that hit the very top f the fence but managed to stay in the park somehow. Parris was able to get to third."
"Then, clean-up hitter Samantha Bogen laid down the perfect safety squeeze bunt to score Hovden (to tie) the game. Bogen was able to second on the play. Two batters later - walk off single by Paiton Glynn to score Bogen and win the game."
Moran continued, "It was great to see the team play such a clean game against a good West team Defense was solid and Parris pitched well tonight. And then to finish like we did - coming up with some big hits in the bottom of the seven and then executing on the squeeze play. Very proud of how we fought to the end of the game."
Hovden had three hits and a pair of runs driven in. She pitched the complete game, giving up eight hits and three earned runs. Laduke had a double and triple. Mehsa Krause went 2-for-3 and Makayla Stenzel was 3-for-3.
The Huskies dropped the second game of the doubleheader 5-1. But there were still highlights. Moran mentioned, "Alyssa Ringhofer, tremendous defense out in centerfield. Made a couple of great catches and really showed her range out there and took several hits away from West hitters." Kennedy Hodgeman made her varsity pitching debut, going two innings and not allowing a hit or run.
The first game counted in the Big Nine standings. OHS wraps up their regular season against Albert Lea Wednesday night at Morehouse. The varsity plays at 7:30 pm.
Owatonna's girls golfers shot 424 during Tuesday's conference tournament in Faribault. That put them eighth for the day and sixth in the overall Big Nine standings. The OHS boys carded 330 Tuesday for a third place finish on the day in Rochester.
Huskies girls lacrosse lost 19-1 at Farmington Tuesday to close out their regular season with an 11-2 record. Playoffs begin next week.
Enter your number to get our free mobile app
Stay in Beautifully Renovated Barn-Turned-Home in Minnesota