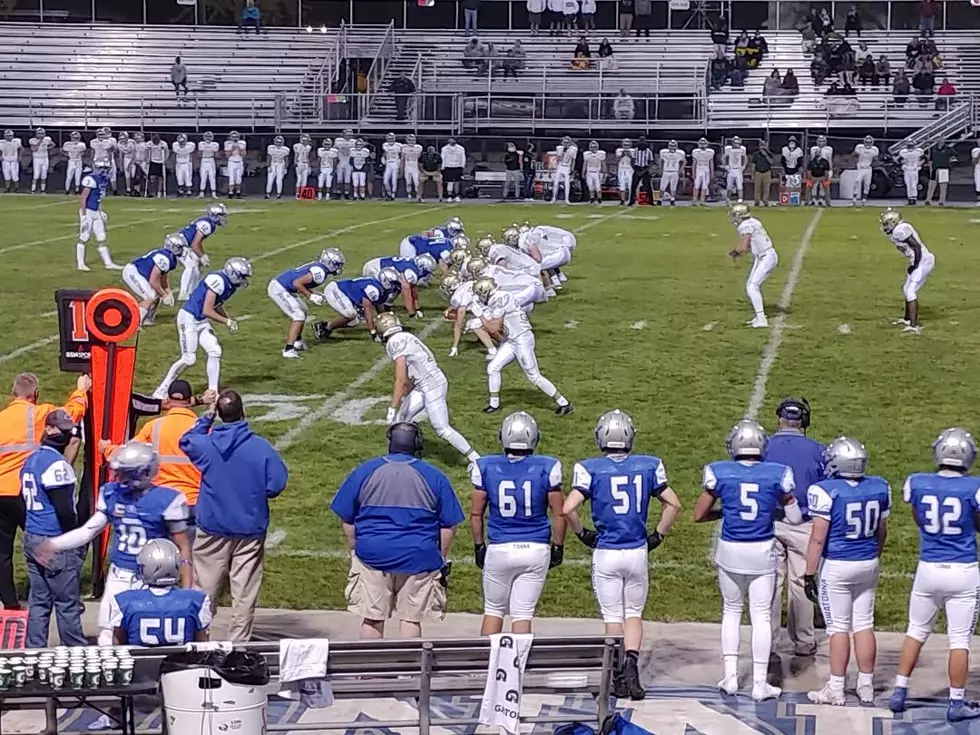 Huskies Rally with Fourth-Quarter Touchdowns
Roy Koenig/TSM
The Owatonna Huskies scored a pair of fourth-quarter touchdowns and put up a goal-line stand in the closing seconds to finish off a 35-28 come-from-behind victory over Rochester Mayo Saturday, October 10 at the OHS field. It was Owatonna's 18th straight regular season win.
Payton Beyer made a sideline grab and tip-toed to stay in bounds on a 24-yard scoring play from quarterback Brayden Truelson with 9:48 to go in the fourth. It completed a nine-play, 75-yard drive to tie the score at 28-28.
OHS forced a Mayo punt and started from their own 31 with eight minutes left. Nine plays and five minutes later, Tanner Hall dashed into the end zone from four yards out to put Owatonna back in front. Lane Versteeg's fifth successful extra point try put the score at 35-28.
Mayo began from their 27-yard line with 2:53 left and drove inside Owatonna's five yard line. Owatonna's defense pushed the Spartans back a bit and Mayo's fourth down play fell as an incomplete pass. Huskies linebacker Matt Seykora made numerous big plays throughout the game, from a strip-sack early in the game to that final goal line standoff.
The defensive stand was made at the south end of the field in front of many fans lined up along the parking lot fence. Attendance was limited to 250 spectators in the stands. Despite the reduced number, the Owatonna bleachers were rocking at times with the fans doing their best to add noise and atmosphere to the delayed season-opening contest.
Beyer had a tremendous game. In addition to his touchdown catch, he had several others, including a great diving one. He was also solid at his defensive back spot on a talented Mayo receiver. Beyer also boomed a 57-yard punt and had a fantastic punt return that set up the Huskies second touchdown.
Owatonna led 21-7 with three minutes to go in the second quarter on Truelson's second touchdown sneak. Mayo drove quickly to score before halftime to pull within 21-14. The Spartans standout athlete Cayden Holcomb returned the second half kickoff for a 92-yard score to get within 21-20.
Rochester went ahead on a 15-play, 77 yard drive that put the score at 28-21 Mayo after a success two-point conversion following a short touchdown run on fourth down with 4:02 to go in the third quarter.
The Huskies go to Rochester John Marshall for a 1 pm kickoff on Saturday, October 17. Catch coverage on AM 1390 KRFO, the free KRFO app, or online at krforadio.com.
Big Southeast, Week 2
Friday, October 16
Austin at Albert Lea
Faribault at Kasson-Mantorville
Rochester Mayo at Rochester Century
Mankato West at Mankato East
Winona at Byron
New Prague at Northfield
Saturday, October 17
Owatonna at Rochester JM, 1 pm
Owatonna Homecoming: Cruise Main
Incredibly Cool Minnesota Castle Looks Like It's Right Out of Tuscany
SAY WHAT? 15 Minnesota Town Names That Are Hard to Pronounce