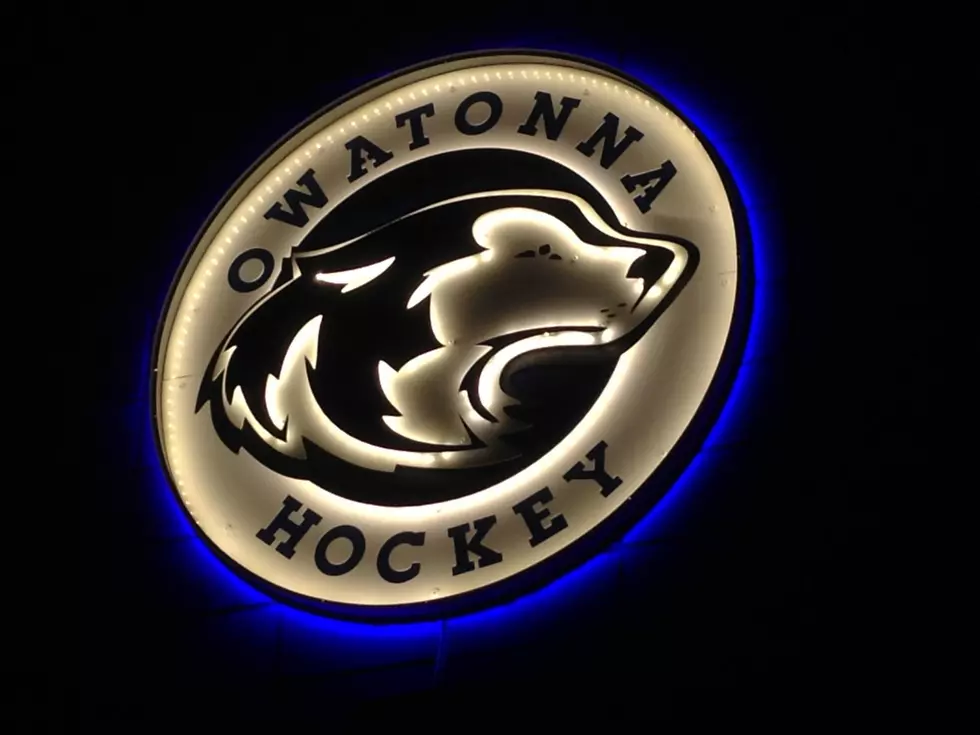 Huskies' Hockey Scores Wins over Tigers
Roy Koenig/Townsquare Media
The Owatonna boys' hockey team won its Big Nine Conference opener 5-1 Thursday night over Albert Lea at the Four Seasons Centre, while the OHS girls were slamming the Tigers 7-0 in Albert Lea.
The Owatonna boys got a 31-save performance from goalie Ryan Johnson, who also had an assist on the final goal of the night, an empty-netter. Braeden Meier and Nate Smith each scored twice. The Tigers out shot Owatonna 32-20 according to the Hockey Hub score sheet. The Huskies (1-1) play at St. Francis Saturday, December 9 at 2PM on KRFO AM 1390.
Margo Achterkirch had a six-point night in the girls 7-0 victory at Albert Lea with two goals and four assists. Chloe Schmidt scored twice. Kiley Friedrichs scored for the second straight game. Asia Buryska made 15 saves for the shutout. OHS put 40 shots on net and went 2-for-4 on the power play.
Owatonna's girls' basketball team dropped a 59-43 decision at Lakeville South, while going 0-for-17 on three-point attempts. The Huskies return to Big Nine play Friday night against Albert Lea at the OHS gym on Kat Kountry 105FM. The OHS boys will have their season opener at Albert Lea at 7:30PM on KRFO AM 1390.
The OHS boys' swimming and diving team opened their season Thursday at Rochester Mayo. Owatonna's highlight for the meet was diving where they finished first, third and fourth.
In girls basketball, Medford topped Cannon Falls 61-56 in overtime for their second straight win. Pine Island beat Triton 67-62 and Plainview-Elgin-Millville beat Blooming Prairie 49-38.
Local boys basketball found Goodhue scoring a 39-34 win over Blooming Prairie.