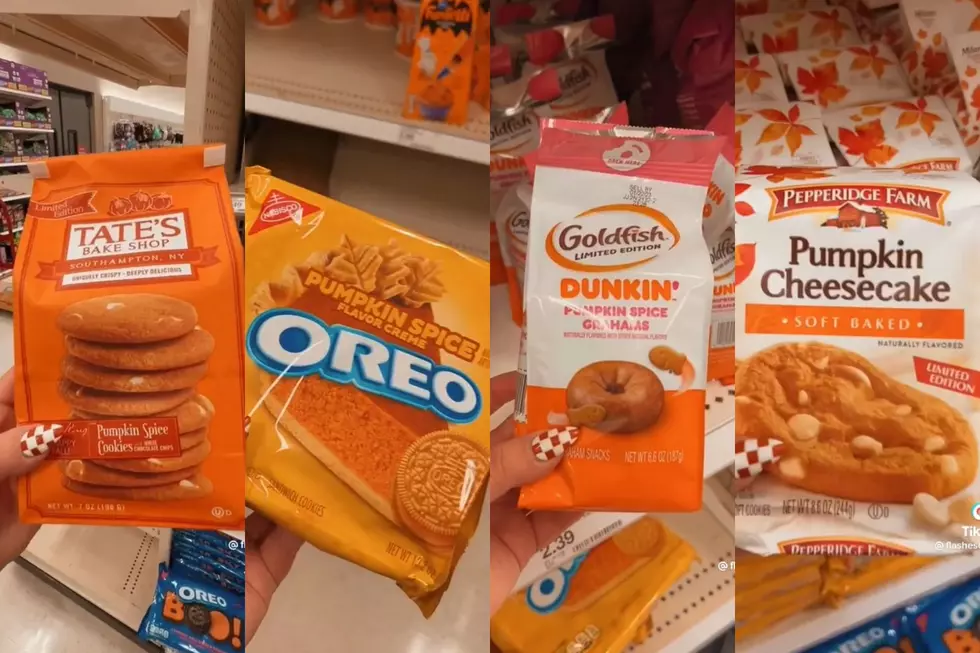 How Many Things Come in a Pumpkin Spice Flavor This Year?
Photos are provided from a TikTok by @flashesofstyle
After coming home from work yesterday, I helped my sister with her groceries and she informed me that there are now pumpkin-spiced flavored Oreos! And my answer to that was "another pumpkin spice flavored thing? How much more do we need?"
Don't get me wrong I like pumpkin-spiced things and fall is my favorite season but how obsessed are people actually to the point where so many big-name brands are coming out with their own pumpkin spice flavored products? So, with That I decided to do some homework, and here are to my knowledge, are the current new pumpkin spice items.
Oreo's
These will be the golden cookie with pumpkin spice flavored cream.
Goldfish
Yep, that is true! Goldfish are actually partnering with Dunkin Donuts to drop the Pumpkin Spice Goldfish graham crackers this season. According to tasteofhome.com they are flavored with cloves, cinnamon, and nutmeg.
Thomas' English Muffins and Bread
Yes, not only does the famous English muffin brand have pumpkin-spiced English muffins but their swirl bread also comes in the same flavor.
Krispy Kreme
According to today.com, "The doughnut chain introduced an all-new item: the Pumpkin Spice Latte Swirl Doughnut." This is actually an addition to their pumpkin lineup that includes Pumpkin Spice Original Glazed Doughnut, Pumpkin Spice Original Filled Cheesecake Doughnut, and Pumpkin Spice Cake Doughnut.
Tate's Bake Shop Cookies
Yep, these guys too! At least they have gluten-free options for people!
Cup Noodles
Now, this is the wackiest one I have seen yet and I am slightly disturbed. Cup Noodles has a ramen noodle flavor with "special pumpkin seasoning that's the perfect blend of sweet, savory and spiced," as described in the Today article.
Califia Farms Creamer and Milk
I mainly know Califia as a non-dairy-based milk brand and did not realize they had creamers. But today.com stated they are releasing "Pumpkin Spice Oat Barista Blend, a pumpkin flavored oat milk; Pumpkin Spice Latte Coffee with Almond milk, a beverage blend with pumpkin puree and fall spices, and almond milk; and Pumpkin Spice Almond milk Creamer, which pairs its almond milk creamer with real pumpkin puree."
Philadelphia Cream Cheese
This one doesn't surprise me, and I did not know about it so this is why I included it on the list.
Chobani
According to today.com, Chobani now has three pumpkin flavors that includes the Greek Yogurt Pumpkin Spice Blended, Chobani Flip Pumpkin Harvest Crisp, and the new one, Chobani with Zero Sugar Pumpkin Spice, a yogurt with zero sugar. But wait, there's more! They also have a pumpkin spice cold brew and creamer!
Flipz Pretzels
Again, another snack brand that I didn't think would join the bandwagon, but here we are with pumpkin spiced flavor covered pretzels.
Jet-Puffed Marshmallows
I want to say I knew about this one, but just in case you didn't yes, there are pumpkin spice flavored marshmallows (which actually sounds pretty good).
Milano Cookies
Again, this one doesn't surprise me, but I did not know they made something pumpkin spice flavored.
Planters Almonds
Almonds with pumpkin spice flavoring!
Kit Kats
They came out with mint and chocolate, and now they have… pumpkin spice flavored Kit Kats.
And of course, there are the ones I knew of and are honorable mentions which include:
Starbucks drink, roast, creamer, and cold brew
Dunkin Donuts' drink, creamer, and donuts
Jell-O's pumpkin spiced Jell-O
Pumpkin Spiced Cheerios
Pumpkin spice flavored pancake, muffin, and donut batter mixes
Pumpkin spiced flavors from tea brands, syrup brands, and Swiss Miss
Pumpkin flavored cookies and bars (including brands like Nestle Tollhouse, and Hostess)
Pumpkin spice flavored granola bars
Pumpkin flavored Ice Cream (including Dairy Queen, Halo Top, and Talenti)
Candles (I know, we can't eat this one though)
Okay I think we can be done with making more pumpkin spice flavored items, right? Hopefully you enjoyed, and check out the articles from today.com and tasteofhome.com. all credit to items goes to both articles.
Best Pumpkin Patches and Places to Find the Perfect Pumpkin in Southeast Minnesota
If you are looking for the perfect pumpkin to help decorate for fall or to carve into an amazing Jack-o-lantern, check out the list below to see some of the best places in Southeast Minnesota selling pumpkins.