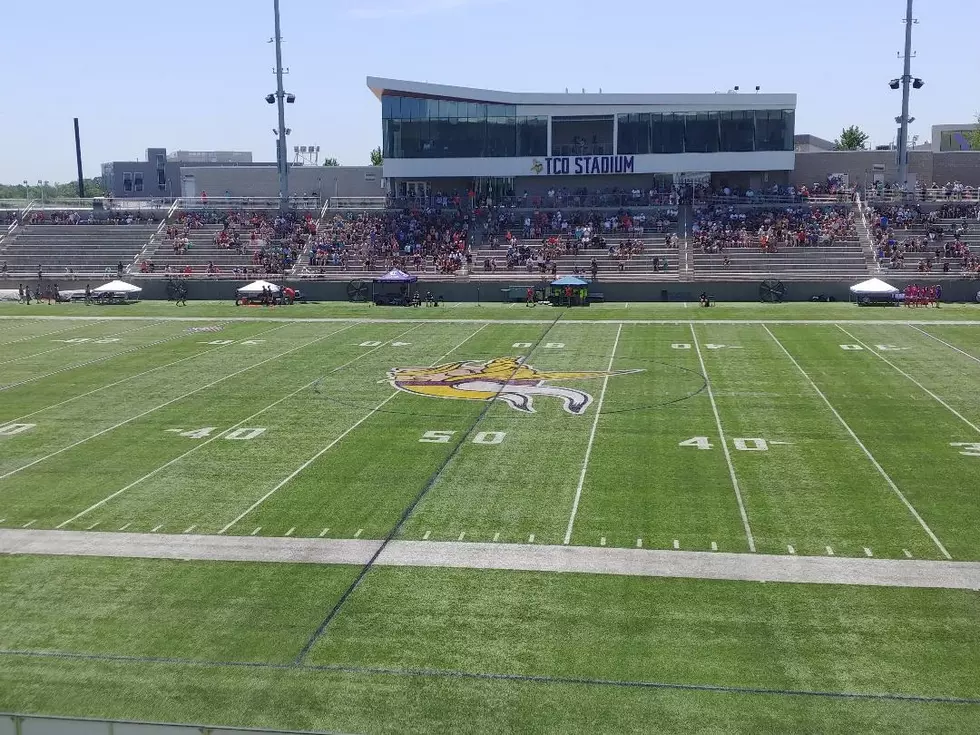 Going to Minnesota Vikings Training Camp Will Cost You in 2022
Roy Koenig/TSM
NFL football. We can't get enough of it. Between the draft in the spring and training camp in late summer, professional football is nearly a year-round passion for many. The Minnesota Vikings announced details this week for training camp at TCO Stadium in Eagan. There are three levels of ticket prices to attend training camp, from free to $10 according to the Star Tribune.
The team will hold several premier practices including the first one on Saturday, July 30. That practice will be without pads. The first padded practice is Monday, August 1. Visit the Vikings website for all the details and dates of training camp.
Full-contact sessions are scheduled for August 1, 3, 5, 6, 8, 10, 11, 17, and 18. Those final two dates will be held jointly with the San Francisco 49ers. The teams play an exhibition game at US Bank Stadium on Saturday, August 30 at 6 pm. Practices without pads are set for August 2, 7, 12, and 16.
Padded, non-premier practices are $5 for adults and free for those under age 17. Non-padded practices in August are free for everyone, though you might still need to get a ticket.
The three-game preseason schedule takes the Vikings to Las Vegas on Sunday, August 14, and Denver on August 27 in addition to the home game versus the 49ers.
Regular-season schedule:
Sunday, Sept 11 vs GREEN BAY, 3:25 pm
Monday, Sept 19 at Philadelphia, 7:30 pm
Sunday, Sept 25 vs DETROIT, 12 pm
Sunday, Oct 2 vs New Orleans in London, 8:30 am
Sunday, Oct 9 vs CHICAGO, 12 pm
Sunday, Oct 16 at Miami, 12 pm
Sunday, Oct 30 vs ARIZONA, 12 pm
Sunday, Nov 6 at Washington, 12 pm
Sunday, Nov 13 at Buffalo, 12 pm
Sunday, Nov 20 vs DALLAS, 3:25 pm
Thursday, Nov 24 vs NEW ENGLAND, 7:20 pm
Sunday, Dec 4 vs NEW YORK JETS, 12 pm
Sunday, Dec 11 at Detroit, 12 pm
Sat/Sun, Dec 17/18 vs INDIANAPOLIS, TBD
Saturday, Dec 24 vs NEW YORK GIANTS, 12 pm
Sunday, Jan 1 at Green Bay, 3:25 pm
Sat/Sun, Jan 7/8 at Chicago, TBD
Million-Dollar Iowa Home Has a 3-Story Indoor Slide
Here They Are - Minnesota's Last Six Old School Drive-In Movie Theaters
It's amazing to think that we shrunk from 80 drive-ins in the 50s to 6 now. And by amazing, I mean amazingly good luck. We have some in different parts of the state so no matter where you live, you can get to one. Some are not so close to us, but with only six in the state, that kinda thing is going to happen.
A big thank you to
Drive-In Movie.com
, it is a super complete site. Check them when you travel, you may luck into a great night of entertainment and nostalgia.