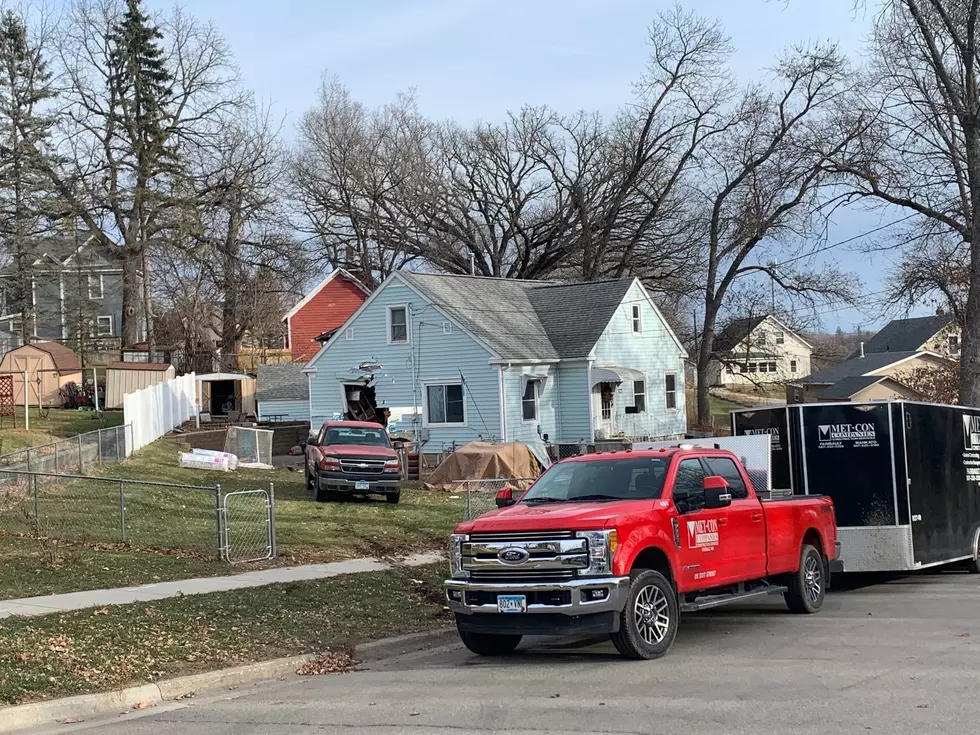 Faribault Man Hits House with Vehicle Following Pursuit
House in 100 Block of Tower Place hit by vehicle being pursued by Faribault Police. Photo by Gordy Kosfeld
A 19 year old Faribault man is apparently in a lot of trouble following an attempt to flee from authorities that ended with the vehicle slamming into the side of a house.  The Faribault Police Department says 8:42 a.m. this morning a Patrol Officer attempted to stop a vehicle for excessive speed in the 300 block of 9th Avenue SW in Faribault.
A news release from the department says, "Upon activating the squad's emergency lights the vehicle fled at a high rate of speed eastbound on 3rd Street SW.  The officer declared a pursuit but slowed after a couple blocks due to the unsafe speeds being displayed by the fleeing driver in a residential area.  As the officer slowed his pursuit, he lost sight of the vehicle but was flagged down by a pedestrian."
The pedestrian evidently informed the offier the vehicle had struck a house.  The news release goes on to say, "The vehicle, occupied by two males (both from Faribault) was located and had jumped a curb and struck the side of a house in the 100 block of Tower Place.  The residence was occupied when it was struck by the vehicle and an adult female and young children self-evacuated from the home."
"The home and vehicle sustained significant damage."
Faribault Police Chief Andy Bohlen commented, "We are truly grateful the home owner and her children were not harmed when the reckless driver struck the home."
The news release concludes:  "Police and Fire Department staff secured the scene and shut off utilities and gas to the home.  The passenger, a 20 year old male was flown to a metro hospital due to serious injuries sustained in the crash.  The driver, a 19 year old male was evaluated at Allina Hospital District One Faribault.  Driver impairment is suspected.  Neither vehicle occupant is believed to have been wearing their seatbelt at the time of the crash."
"The Minnesota State Patrol responded to assist with accident reconstruction and the investigation" which is ongoing and open according to Faribault Police.
Faribault Police have a policy where they do not release the names of people involved in alleged crimes until they are officially charged.
I was told the 19 year old also allegedly bit one officer in the arm and spit in another's face at the Faribault hospital which could lead to more charges.
TAKE A LOOK: 9 Creepy Abandoned Places You Didn't Know Existed in Minnesota