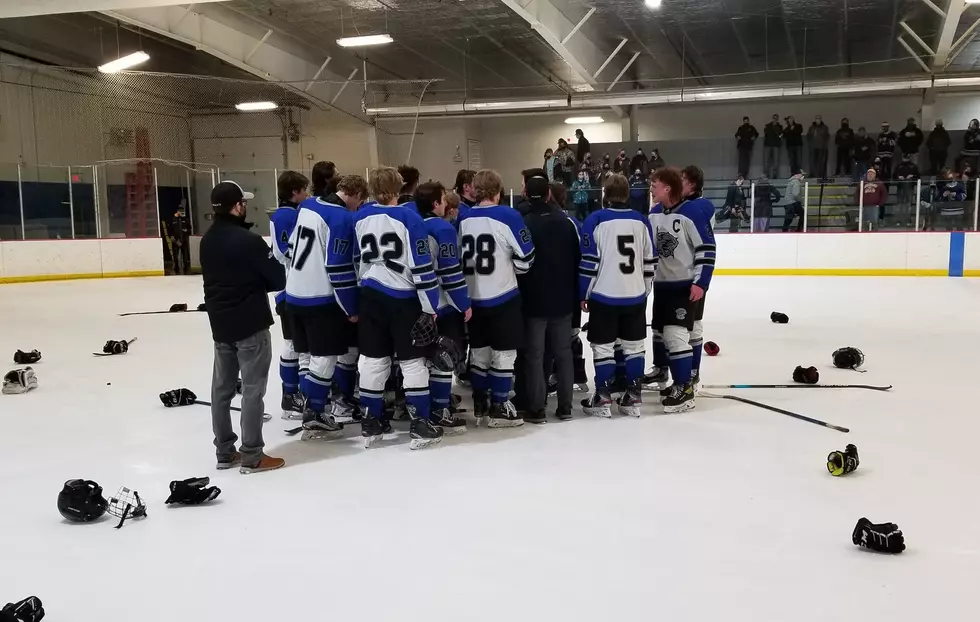 Dodge County Reaches The Tourney for the First Time
@KM_Activities
In a first-of-its-kind season, the Dodge County hockey program is celebrating a first-time ever occurrence. The boys hockey team is going to the Minnesota state high school boys hockey tournament. The Wildcats beat Mankato West 4-3 Wednesday for the Section 1A crown, punching their ticket to St. Paul and the Xcel Energy Center.
The game was also the first-ever appearance in a section title game for the boys program. The Dodge County girls have made it as far as the Section 1AA finals a few times, but have yet to win a section title.
As a bonus, the boys were able to celebrate on home ice in Kasson. This season games were hosted at the high seed rather than going to a neutral site for the section semifinals and finals.
The top-seeded Wildcats jumped out to a quick 2-0 lead over the Scarlets on goals by Matt Donovan and Charlie Blaisdell, but plenty of drama was yet to come. West pulled within a goal after Ethan Fox scored about six minutes into the second period.
West started the third period with a 5-on-3 skater advantage and scored the tying goal 1:10 into the period by Gage Schmidt. Dodge County went back up 3-2 a few seconds after going back to full strength, Donovan's second goal came at 2:09.
Dodge County had a 5-on-3 power play a bit later. West completed the penalty kill then tied the game again at 6:10 at 3-3 on Sam O'Neil's goal.
The game-winning tally came from future Gopher and the state's leading scorer Brody Lamb at 7:59 for the 4-3 final margin. He also assisted on two goals. Isaac Dale backstopped the win. Wildcats student-body fans stormed the ice briefly to celebrate, garbed in Hawaiian clothing.
West (13-5-2) outshot the Wildcats (17-3-1) 30-22.
In Section 1AA, Lakeville South pulled away from Lakeville North for a 7-3 to advance to state for the fourth time in the last five seasons.
Enter your number to get our free mobile app
FIVE THINGS YOU DIDN'T KNOW ABOUT MINNESOTA
From purposefully spinning the car around on snow/ice to the Minnesota Nice Department of Health Inspectors and the Hot Dog Stand, you'll probably had no idea these things were true in Minnesota.