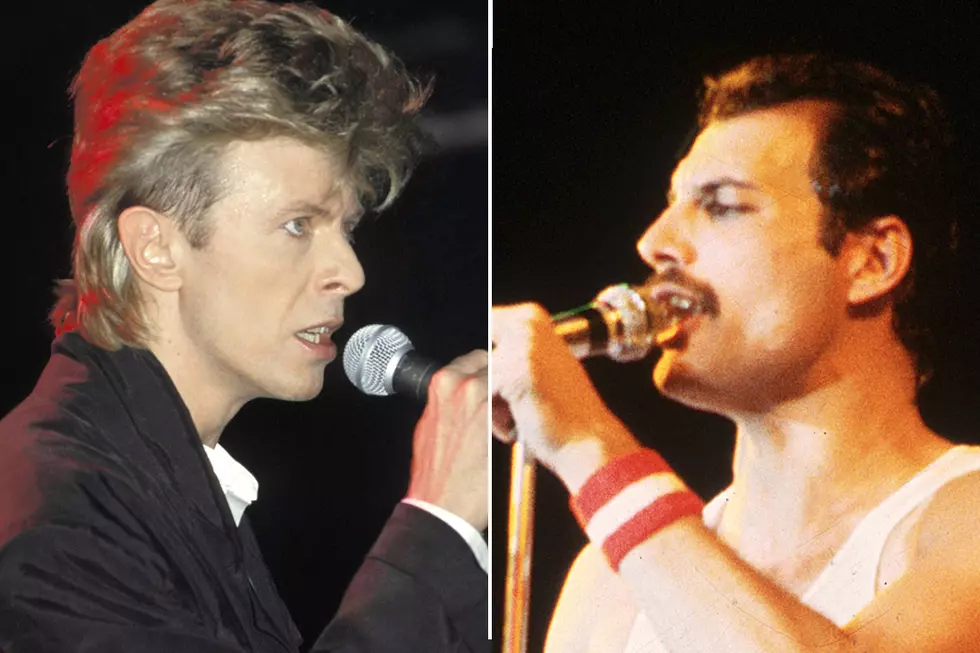 David Bowie and Queen Recorded Other Songs During 'Under Pressure' Sessions
Patrick Riviere / Getty Images
David Bowie and Queen recorded a series of songs together in the '80s, even though only "Under Pressure" was released from the sessions.
In music historian Neil Cossar's upcoming book David Bowie I Was There, Peter Hince - the former head of Queen's road crew - reveals that among the unheard tracks are duets between Bowie and Freddie Mercury.
Hince's comments come after guitarist Brian May suggested the material existed and might be released at some point. "Not all of what we did in those sessions has ever come to light – so there's a thought," the guitarist said last month. A demo of the Hot Space song "Cool Cat" featuring Bowie has made its way online in the past.
Listen to Queen and David Bowie's 'Cool Cat'
Hince, who was Queen's chief roadie, told the Guardian, "There's stuff with Freddie and David singing together. Proper full-length rock 'n' roll tracks. Raw, but good." He said drummer Roger Taylor had invited Bowie to Montreaux from his home in nearby Vevey, and the artists' "mutual admiration" led to the recording sessions.
"They just started knocking things around," Hince recalled. "They did cover versions, a few of their own things. They came back the next day and recorded what eventually became 'Under Pressure.' But there were other things recorded which were never finished or mixed. David did vocals which ended up not being used. So somewhere there is an archive. I was in the studio with them. It was all quite spontaneous. I can categorically say I know that there were complete tracks. Not mixed tracks, but fully formed songs. Does it belong to the David Bowie estate or to Queen? That's probably part of reason these things have never come to light."
"Under Pressure" eventually appeared on Queen's 1982 album Hot Space and reached No. 1 in the U.K. and No. 29 in the U.S.  Bowie died in 2016 at age 69 after a battle with cancer. Mercury was 45 when he died in 1991 as a result of complications from AIDS.
Masterpieces: The Very Best Albums From More Than 100 Classic Rock Acts