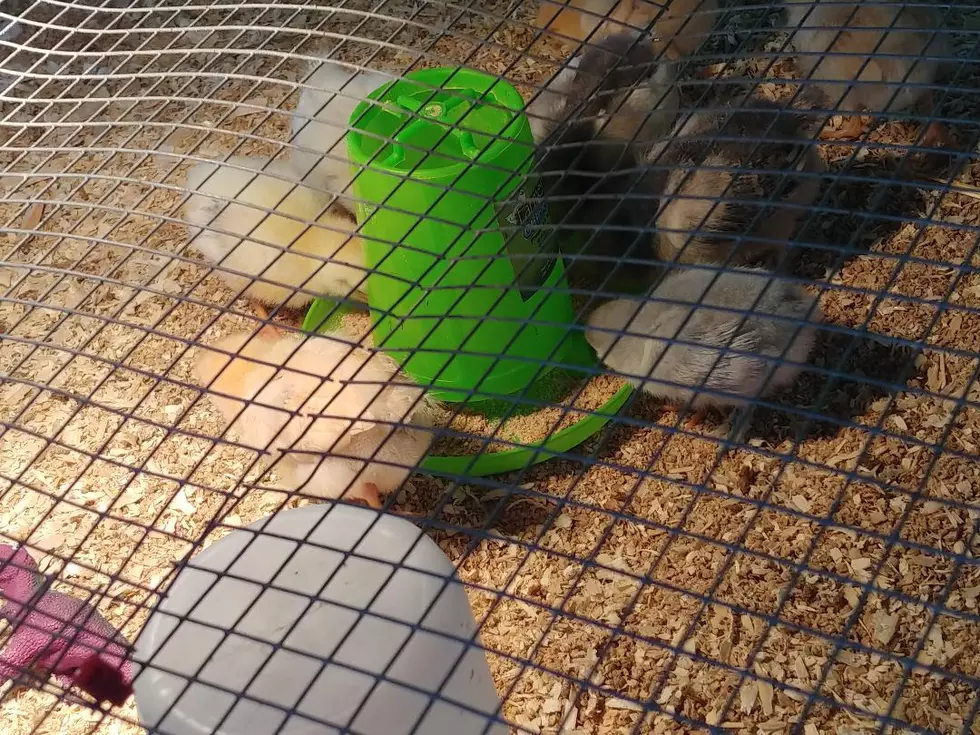 Chicks Vs. The Fly: Battle Royal at Rice County Fair
Roy Koenig/TSM
Pint-sized spectators chose their rooting interest and crowded around the cage. The battle was on. The grandstand had Midwest All-Star Wrestling during the Rice County Fair in Faribault. But the Children's Barnyard had the chicks versus a fly.
"There was a fly yesterday [Wednesday] that got in with the baby chicks," barnyard coordinator Colleen Almen told Power 96 radio. The chicks were going after the fly "and we had a very large crowd that were cheering for the chicks [and] a couple that were rooting for the fly to get out of there. But it was definitely fun to watch."
In the end, "The chicks got the fly."
See photos from the wrestling event here. Midwest All-Star Wrestling will make an appearance at the Steele County Free Fair in Owatonna on Tuesday, August 16.
Generally speaking, the barnyard is a great chance for kids to get up close to a variety of animals such as chickens, turkeys, goats, pigs, ducks, rabbits, and others. "They definitely love the little chicks and the pigs are a hit. They definitely love to come in and watch the animals and meet them," Almen said.
It's also an opportunity to teach the kids, "So with all of the animals, there's also some education behind them. We teach them what the young ones are called, what the adult ones are called, what some of the by-products are of the animals. It really is an all-around learning experience for the children and the adults."
DUCK GAME A HIT
Kids could also play a duck challenge game at the Children's Barnyard. The game was presented by Windy Willow Farm Adventure near Northfield.
Charming Southeast Minnesota Treehouse Is Perfect For A Relaxing Getaway
This beautiful treehouse located in Mabel, Minnesota is the perfect vacation rental to enjoy some much-needed rest and relaxation. It has two full-sized beds to go along with beautiful views of Southeast Minnesota.
Nestled in the pines of the Driftless Region, if you are looking for a quick weekend getaway, this Airbnb would be the perfect spot. There is plenty to do in Southeast Minnesota, so as the listing says: "You will find several outdoor activities to explore. Bring your bicycle, fishing poles, atv/utv, kayak/canoe, binoculars, or a good book. Many activities for everyone in the surrounding area."
Check out some photos of this charming treehouse below!
12 Abandoned Film Sets You Can Visit In Real Life