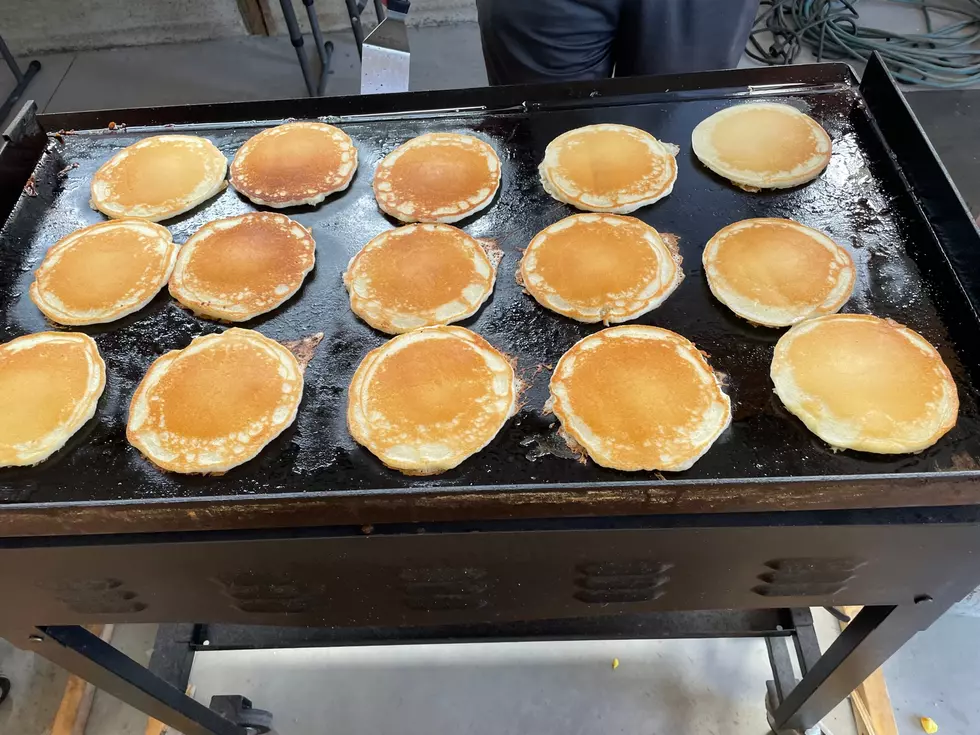 Cannon Falls Lions Father's Day Breakfast Move Successful
Pancakes on Griddle at 2022 Cannon Falls Lions Breakfast. Photo by Gordy Kosfeld
The Cannon Falls Lions Father's Day Pancake Breakfast spent many years at the Stanton Airfield.  This year the event was moved to the Cannon Valley Fairgrounds in Cannon Falls.
Organizers were unsure how the move would be received but were very encouraged after the first breakfast at the new location concluded.
Planes were a good draw for people when the breakfast was held at the airfield so Cannon Falls Lions members tried to think of things that families would enjoy seeing together on Father's Day.
They knew there was a Cannon Falls Fire Muster hosted by the Minnesota Fire Engine Club the day before Father's Day in Hannah's Bend Park which is across the street from the Cannon Valley Fairgrounds.  So they asked if some of those trucks might want to cross the street to be viewed by the people attending the Father's Day breakfast.
There were fire trucks from Hudson, Wisconsin, Farmington and several other communities in addition to Cannon Falls.
The Lions Also brought in some vintage vehicles, (always a Father's Day favorite) classic tractors and the Goodhue County Sheriff's Office provided their Bearcat Tactical Vehicle and Rescue Airboat.
I visited with an elderly gentleman who had fond memories of riding one of the old tractors on display.  No power steering, no comfortable seat. no air conditioned cab.  He called it a "very good workhorse."
As I was leaving the tractors were going on what appeared to be a parade around the fairgrounds.
Just before going in or leaving the barn (Commercial Vendors during Cannon Valley Fair) where people could enjoy their breakfast there was a High Striker where people of all ages lowered the hammer to win a prize.
Both ends of the barn were opened with barn fans in one end making it pleasant inside on a hot Sunday.
I enjoyed the pancakes, eggs, sausage and orange juice.  Coffee and milk were also made available.
Cannon Falls Lions leadership believes a new tradition can be started on the Cannon Valley Fairgrounds where there may even be more area to grow.
Are you able to identify these?
KEEP LOOKING: See What 50 of America's Most 'Pupular' Dog Breeds Look Like as Puppies