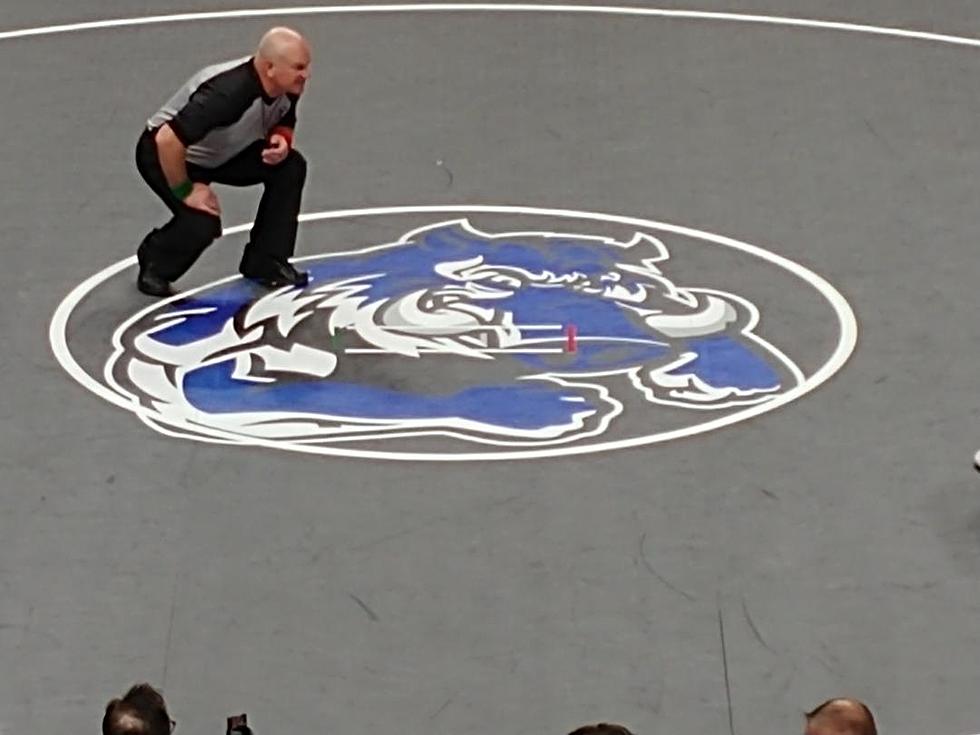 Brackets for Owatonna, Medford, Westfield Wrestlers
Roy Koenig/Townsquare Media
The modified state wrestling tournament is this week with each class getting one day of competition at St. Michael-Albertville High School. Class AAA is there Thursday. Owatonna has three individuals. Class AA has Friday. And Class A will wrap it up Saturday. Medford has three individual qualifiers. Westfield has a lone wrestler at state.
Match-ups in each eight-man bracket were announced Monday. Team semifinals start each day at 9 am. Individual wrestling is scheduled for 2 pm. There are no general admission tickets for sale. Additionally, local media is not allowed to be on-site.
Owatonna's Cael Robb (No. 3 rated, sophomore, 24-2) draws Landon Nebel (No. 8, sophomore, Edina, 33-4) in the first round at 120 pounds. The winner will likely face Landon Robideau (No. 2, St. Michael-Albertville junior, 33-1) in the semifinals. Each weight will wrestle out to first, third and fifth place.
Top-rated Landen Johnson (junior, 24-1) faces Elijah Madimba (Coon Rapids senior, 22-7) at 160 pounds. The Huskies Matt Seykora draws the top-ranked 182-pounder Max McEnelly (Waconia sophomore, 33-0).
See all the individual brackets here.
Medford eighth-grader Tommy Elwood (No. 3 rated, 25-1) faces Donovan Schmid (No. 9, Blackduck/Cass Lake/Bena freshman, 19-2) at 106 pounds. Every wrestler in the bracket is top ten rated. No. 1 Anthony Romero (Grand Meadow-Leroy-Ostrander senior, 23-2) is on the opposite side of the bracket from Elwood.
The Tigers' Josiah Hedensten (No. 7, senior, 24-2) draws unranked Hunter Dean (Bertha-Hewitt-Verndale senior, 25-3) at 170. Top-ranked Carter Sorenson (Fosston-Bagley senior, 31-1) is on the same side of the bracket with Hedensten.
Medford's Brennon Hoffman (senior, 12-1) faces Jaxon Behm (No. 6 at 182 pounds, ACGC junior, 24-6) in the 220 quarterfinals. Top-ranked Dominik Vacura (Badger-Greeen Bush-Middle River senior, 30-0) is on the opposite side of the bracket.
Tyler Archer (Westfield junior, 24-5) will battle Nathaniel Kisgen (No. 2, West Central Area senior, 29-4) at 182 pounds. No. 1 rated Tyson Meyer (Minnewaska Area senior, 28-0) is on the same side of the bracket.
Class AAA team semifinals on Thursday
No. 1 seed Shakopee vs No 4 Anoka
No. 2 Stillwater vs No. 3 STMA
Class AA team semifinals on Friday
No. 1 seed Simley vs No. 4 Princeton
No. 2 Fairmont/Martin County West vs No. 3 Dassel-Cokato/Litchfield
Class A team semifinals on Saturday
No. 1 seed Kimball vs No. 4 Royalton/Upsala
No. 2 Jackson County Central vs No. 3 Bertha-Hewitt/Verndale/Parkers Prairie
Enter your number to get our free mobile app
9 Times People from Minnesota, Iowa, and Wisconsin Were Featured on MasterChef
How many MasterChef contestants are from our neck of the woods: Minnesota, Wisconsin, and Iowa? There are actually 9 former contestants from one of those three states! Below you'll find those contestants, where they're from, and what season they were on.