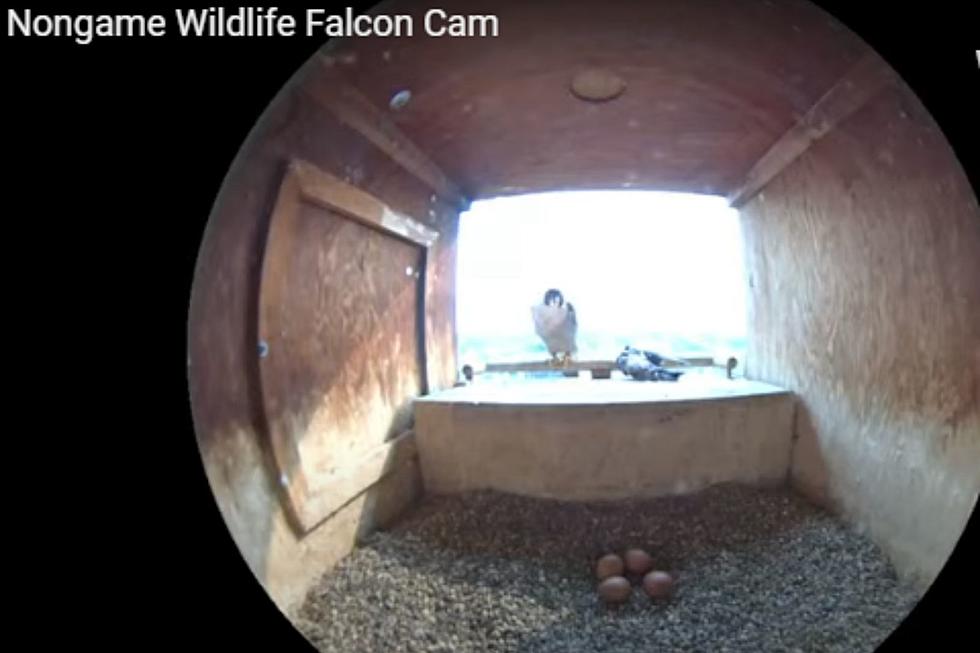 Baby Falcons Should Be Arriving Soon! Watch Minnesota DNR FalconCam LIVE
Minnesota DNR
THE WAIT IS ALMOST OVER
I'm anxiously awaiting the arrival of our baby Falcons that we are all watching on the DNR FalconCam. They say that the eggs should hatch around May 19th...so it could be any moment!
I've been checking in daily on the Minnesota DNR FalconCam to see if the eggs have hatched yet. The good news is, we still have four eggs and the nest has no chance of falling out of a tree. The parents-to-be are watching their eggs eagerly, and seem to be ready for the hatching.
FOUR EGGS
Acadia, the mother of these four eggs, was banded back in 2013 and has been on the property since 2016. It's my understanding that her eggs are at the Sentinel Properties Building, Formerly Bremer Bank. The eggs are ready to hatch any day now.
There are FOUR eggs in the nest, and Acadia's mate is a 3-year-old Falcon that was banded as a hatchling from the Mayo Building at the University of Minnesota Campus in Hennepin County in 2020.
REAL-LIFE STRUGGLES IN NATURE
Watching the bird cams in our state really gives you a true picture of the struggle that our wildlife goes through on a daily basis. Some of it is hard to watch. I hope that these eggs hatch and that we have a successful season for Acadia, but as we learned by watching the devastating fall of the nest on the EagleCam a couple of weeks ago, there are just no guarantees out there. You can watch the FalconCam LIVE by clicking HERE, and go back up to four hours to see what's been happening each day.
KEEP READING: See the richest person in every state
KEEP READING: Here are the most popular baby names in every state
Using March 2019 data from the
Social Security Administration
,
Stacker
compiled a list of the most popular names in each of the 50 states and Washington D.C., according to their 2018 SSA rankings. The top five boy names and top five girl names are listed for each state, as well as the number of babies born in 2018 with that name. Historically common names like Michael only made the top five in three states, while the less common name Harper ranks in the top five for 22 states.
Curious what names are trending in your home state? Keep reading to see if your name made the top five -- or to find inspiration for naming your baby.
CHECK IT OUT: See the 100 most popular brands in America