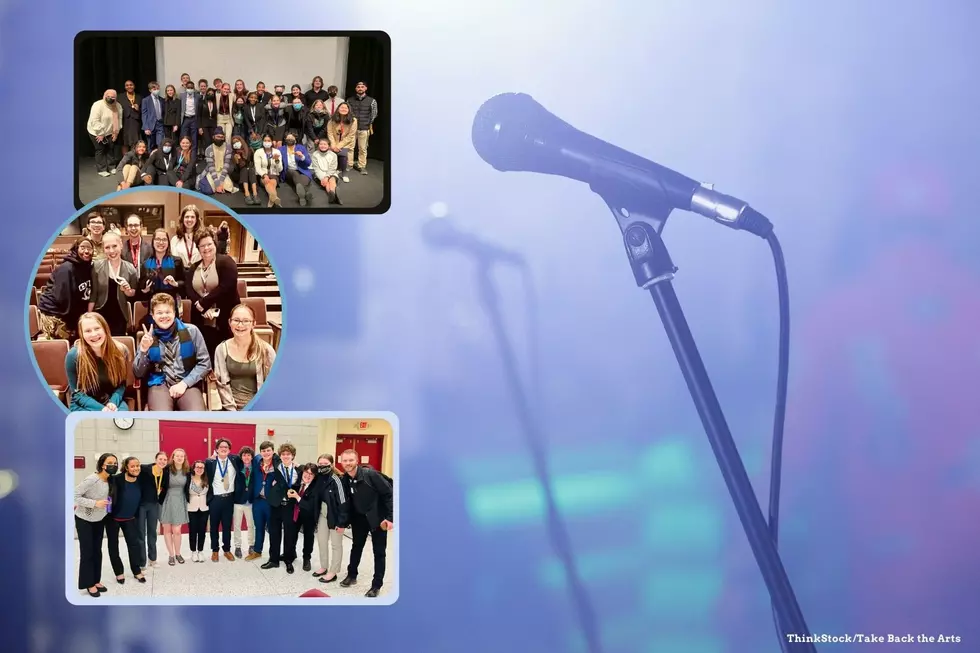 Amazing Take Back the Arts Event Happening in Rochester
Thinkstock/Take Back the Arts
First-Ever Take Back the Arts Event Happening in Rochester, Minnesota on May 1st
Dig out those red carpet outfits and come support the high schoolers in Rochester, Minnesota as they overcome one of the biggest fears people have - public speaking!  For the first time ever, Take Back the Arts will be hosted at the Rochester Art Center and students from John Marshall High School, Century High School, and Mayo High School will be performing.
The Speech teams in the Rochester area strive to bring students of various backgrounds together, uniting them in the power of overcoming not only the fear of public speaking, but in speaking up to make a difference by encouraging social justice, promoting self-expression, practicing accountability, and gaining self-confidence, all while developing a teamwork mentality.
Our first-ever Take Back the Arts! Speech Showcase Night will highlight the talents and skill of students on the Speech Teams from Mayo High School, John Marshall, and Century High Schools. While we have a whole day of FUN planned for our speakers and their families, we invite students from the latter three schools to visit us, learn about Speech, and sign-up if interested from 1-3 pm.
Current student speakers and their families are then invited to view our National Speech & Debate Association (NSDA) induction ceremony - by invitation only. Followed by our public showcase at 6:30, where our speakers will surely entertain your 'socks off', along with limited hors d'oeuvres and silent auction. Please support the arts in your community! - Take Back The Arts! Speech Showcase Night Facebook Event Page
Everything you need to know about the Take Back the Arts Event in Rochester, Minnesota
When:  Sunday, May 1st at 6:30pm
Where:  Rochester Art Center
Cost:  FREE  (donation boxes will be set up for free-will donations)
What:  Enjoy a night of fun as students take the stage and perform for those in the audience.
Check out the Take Back the Arts Facebook event page here.
Check out all of these Champion Rochester, Minnesota students at the Rochester Public Schools High Schools
John Marshall High School - they sent 9 entries to the state speech tournament last Friday.
Here are the full results from one of the latest competitions:
Team sweeps: Champions
Creative:

Xan-Champion (state bound)
Brett-5th
Sreyoli-6th

Drama:

Letitia-3rd (state bound)

Duo:

Anna/Annika-2nd (state bound)

Extemp Reading:

Madilyn-3rd (state bound)

Extemp Speaking:

Basmalla-3rd (state bound)
Aaron-4th
Scott-7th

Great Speeches:
Informative:
Oratory:

Hershy-3rd (state bound)
Radhika-5th
Shukri-6th

Poetry:

Manasa-Champion (state bound)
Odile-3rd (state bound)
Hawwerra-4th
Emmanuel-7th

Storytelling:
Mayo High School Speech Section 1AA Results
Statebound:

Gabriella Schimnich - Informative Champion
Rebecca Sladowski - Informative 2nd place
Claire Nelson (1st year) - Informative 3rd place
---Mayo HS took the Informative Category---
Rocco Ruggeri (1st year) - Humor Champion
William Laudon (2nd consecutive year at State) - Storytelling Champion
Rhys Van Ert (1st year) - Poetry 2nd place
Finalists representing Mayo with medals:

Jorja Wodziak - Original Oratory 4th place
Matthew Brodsky - Storytelling 5th place
Coach's Honorable Mentions:

Austin Couch - Drama
Alessia Rossi - Original Oratory
Century High School had 3 students who placed at Sections, and 2 who advanced to State.
Logan Juran placed 2nd in Dramatic Interpretation. (Statebound)
Madelyn Mikkalson got 3rd in Creative Expression (Statebound)
Inessa Geske & Zoe Strissel took 6th in Duo Interpretation
11 restaurants in Rochester, Minnesota with the best ranch dressing
The condiment that midwesterners crave the most is ranch. They dip everything from veggies, burgers, fries, and cheese in this scrumptious sauce. But what restaurant in Rochester, Minnesota has the best ranch? According to some passionate ranch dressing lovers, we now know.