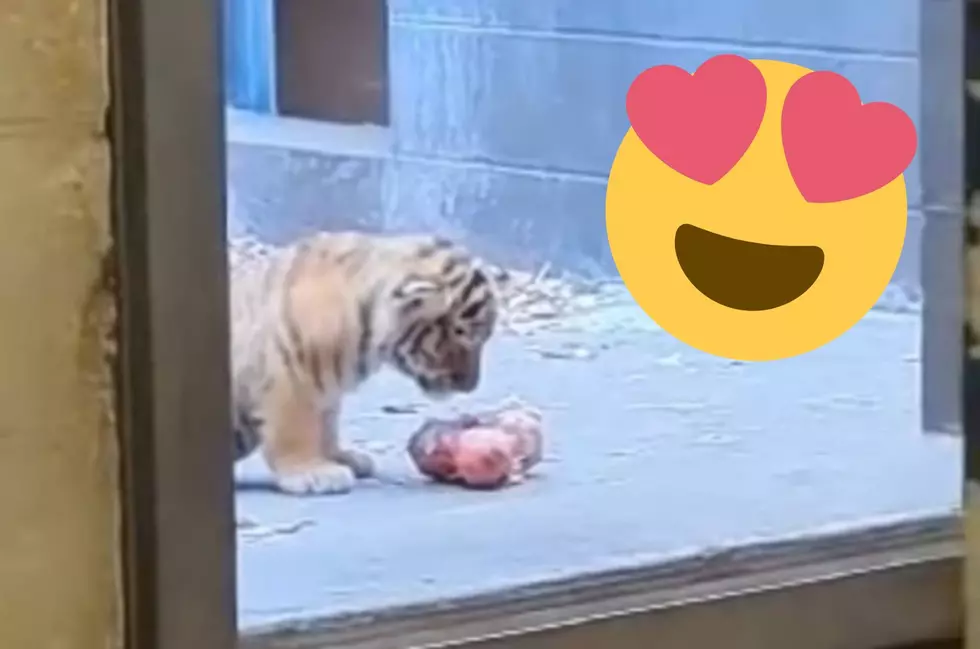 Adorable New Video Shows Minnesota Zoo Cub Trying New Food
Credit: Minnesota Zoo via Facebook
Some new additions were welcomed to the Minnesota Zoo recently, baby tigers! They've been growing up and getting bigger behind the scenes (they aren't out for the public to see just yet). Part of that growing up includes trying new things, like new and exciting food.
The Minnesota Zoo shared a video on Facebook the other day showing just that. The zookeepers taking care of these cuties decided it was time to start varying things up in the cubs' diet a little bit and gave them some meat.
I would expect that if you hand a tiger some meat they're going to go absolutely nuts over it, like when I give my cats their favorite treat. But no, the Minnesota Zoo says that "the cubs were hesitant at first". Because they were a little hesitant about this new option in their enclosure it resulted in a very cute video of one of the cubs taking the tiniest of bites and trying it out for the first time.
Isn't that one of the cutest things you've seen all day?! Ugh, and their paws are so big too, just a whole bunch of cute in one, short video.
If you're wanting to plan a trip to the Minnesota Zoo to see these little dudes, you'll want to hold off for just a bit. The zoo says that they expect the cubs to be ready to go out to the public habitat in mid-August. So start making plans for around that time to go up to the Minnesota Zoo. You know I'll try and make it up there before they get too big!
Keep scrolling for some amazing pictures taken of animals from around the world.
LOOK: Stunning animal photos from around the world
From grazing Tibetan antelope to migrating monarch butterflies, these 50 photos of wildlife around the world capture the staggering grace of the animal kingdom. The forthcoming gallery runs sequentially from air to land to water, and focuses on birds, land mammals, aquatic life, and insects as they work in pairs or groups, or sometimes all on their own.