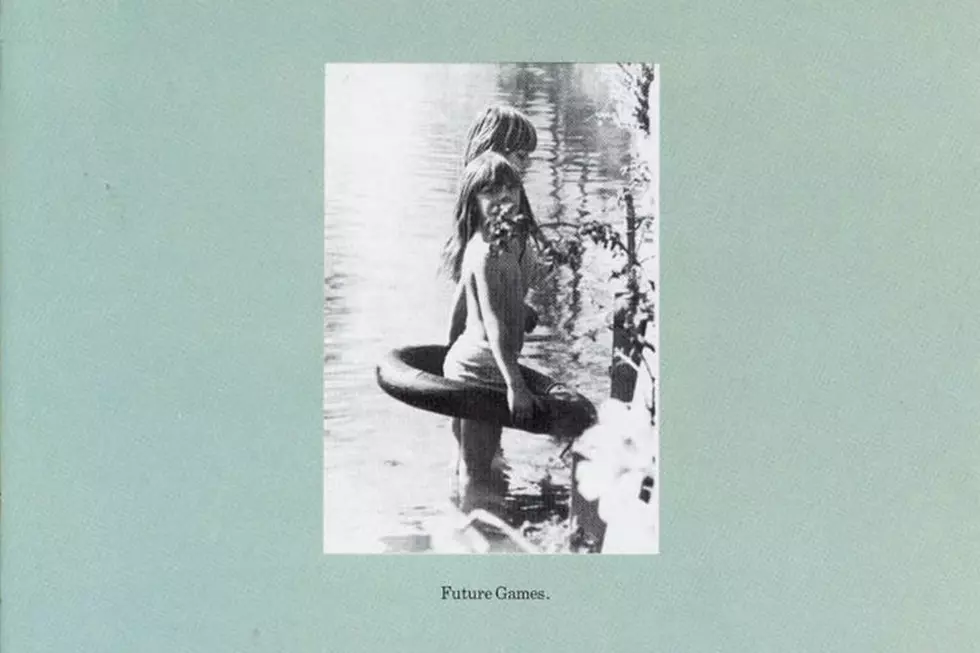 How Fleetwood Mac Bulked Up, but Still Lost on 'Future Games'
Reprise
Fleetwood Mac's early days were marked by poor sales and a seemingly ever-shifting lineup. Future Games, their fifth record, arrived on Sept. 3, 1971, with a bit of temporary stability in the form of new guitarist Bob Welch and keyboardist Christine McVie.
For McVie, the transition was easy. She'd been contributing to Fleetwood Mac albums since 1968's Mr. Wonderful; she joined full time after 1970's Kiln House, whose cover she painted. She was also married to the band's bass player, John McVie.
Welch, meanwhile, had replaced Jeremy Spencer, who founded Fleetwood Mac with John, Mick Fleetwood and Peter Green – all of whom were alumni of British blues legend John Mayall's Bluesbreakers band. Welch was an American, and brought with him a different sensibility that was reflected in the material. Gone was the dirty blues-based foundation that Fleetwood Mac was built on, replaced by a variety of influences ranging from folk and country, to pop and psychedelia.
"He was totally different background – R&B, sort of jazzy. He brought his personality," Mick Fleetwood said of Welch in a 1995 BBC interview. "He was a member of Fleetwood Mac before we'd even played a note."
Unfortunately, Future Games became one of a handful of seemingly forgotten Fleetwood Mac albums. That's too bad, since it plays out as one damn fine LP. Danny Kirwan's "Woman of 1000 Years" is a beautiful opener; its ringing acoustic guitars and dreamy vocals casting a slightly psychedelic haze, not miles away from the likes of Crosby, Stills & Nash or even early Yes. "Morning Rain" is a Christine McVie song that shifts gears into rock and roll terrain, another great lost Fleetwood Mac tune.
Listen to Fleetwood Mac's 'Future Games'
It is Welch, however, who ignites side one with the ethereal title song. Nearly nine minutes of dreamy rock and roll awash in a bit of a haze falling somewhere between the sky and the horizon. Side two kicks off with two more Kirwan tunes, "Sands of Time" and "Sometimes," the latter being a straight-ahead country-tinged number while the latter echoing a more jangly, Byrdsy territory. Welch offers up "Lay It All Down," the album's most upfront rocking number; "Show Me a Smile," another great Christine tune, ends the album.
Through Future Games still holds up surprisingly well, at the time it garnered precious few sales or much praise. Rolling Stone called the album "thoroughly unsatisfactory," and referring to Christine McVie's voice as "surprisingly weak and emotionless." They were not any kinder to Bob Welch, saying "his talent appears to be notable only in its lack of distinction."
Through Welch's contributions to the band were significant during this period, searing commentary like that only added to his growing sense of alienation from Fleetwood Mac. "It was like they were on some sort of mystical quest, by appointment to her majesty," Welch later recalled, "as if they had been given this thing, this mission to somehow accomplish, and I was never quite clued in to what that mission might have been."
At the same time, Fleetwood Mac was still having trouble connecting with American audiences. Kiln House was their first album to even break into the Billboard Top 100; Future Games barely edged its way in. Kirwan stuck with the band for one more album, while variations on the Welch / McVie / McVie / Fleetwood lineup produced another four studio projects before Fleetwood Mac's fortunes changed forever.
Fleetwood Mac Solo Albums Ranked
There have been more than 40 of these outside projects, which deepen and add to the band's legacy.
Why Don't More People Like This Fleetwood Mac Album?