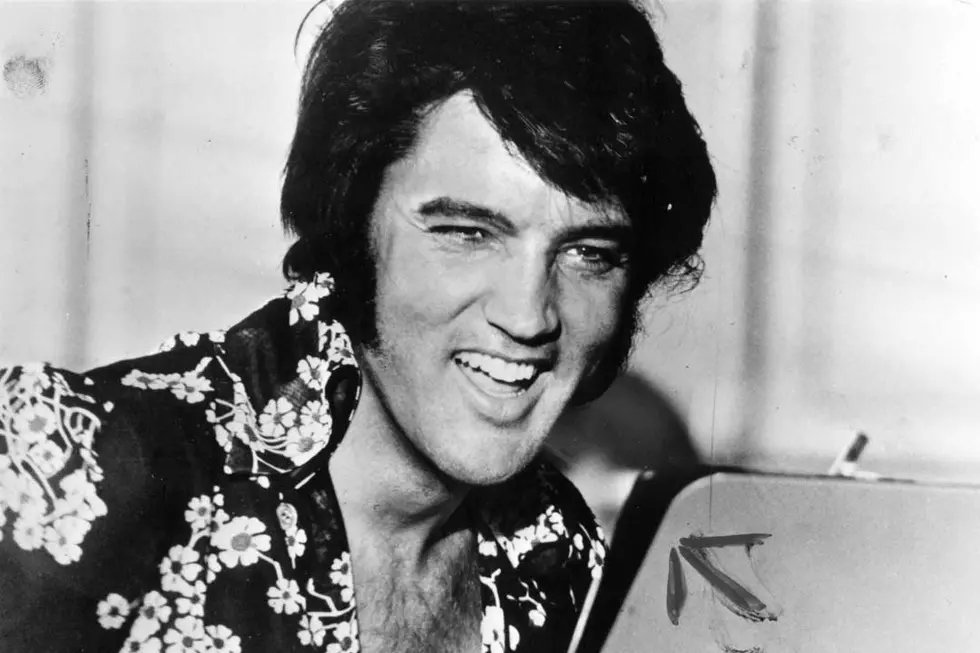 25 Elvis Presley Songs From the '70s That Don't Suck
Hulton Archive, Getty Images
The story goes that Elvis Presley, after his startling comeback in 1968, let it all go to hell again just a few years later. Not true.
While the 1968 TV special that heralded his comeback, and then the 1969 recording sessions in Memphis that spawned both his last No. 1 hit (the excellent "Suspicious Minds") and the great From Elvis in Memphis album, may appear to cynics and casual fans to be Presley's last gasps of creative life, the next decade included some worthy additions to the King's canon, as our list of 25 Elvis Presley Songs From the '70s That Don't Suck proves.
Before he died at age 42 on Aug. 16, 1977, Presley was still an active performer, giving what turned out to be his last concert just two months earlier. But many of those live performances were accompanied by karate kicks, shiny white jumpsuits and some truly bizarre stage patter. (Track down the out-of-print Having Fun With Elvis on Stage album or the train-wreck bootleg Desert Storm, which documents his last Las Vegas show of 1974, for the best, or worst, of it.) Plus, the King of Rock 'n' Roll quit, well, rocking around 1974 or so.
Still, there were some bright moments, like the country album Elvis Country (I'm 10,000 Years Old), his last Top 10 single "Burning Love," the sublime "Always on My Mind" and several other tracks, which you'll find on our list of 25 Elvis Presley Songs From the '70s That Don't Suck.
"Kentucky Rain" was recorded in 1969, but it wasn't released until early 1970, so we're including it on our list of Presley's best '70s records. It's from the same sessions that yielded the great From Elvis in Memphis album in 1969, and like that LP, "Kentucky Rain" stands as one of Presley's best works.

"Mama Liked the Roses" (1970)

Like "Kentucky Rain," "Mama Liked the Roses" was recorded in Memphis in early 1969. And like "Kentucky Rain," it didn't show up until 1970, when it appeared as the B-side to "The Wonder of You." It's a bit on the sappy side, like many of Presley's late-career records, but it's a heartfelt performance, complete with a spoken interlude.

Like "Kentucky Rain," "Patch It Up" was co-written by Eddie Rabbitt before he became a star about a decade later. "Patch It Up" is a horn-spiked rocker that sounds like something left over from Presley's great 1969 Memphis sessions. The same fertile 1970 sessions also gave us the great Elvis Country (I'm 10,000 Years Old).

"Polk Salad Annie" (1970)

Presley recorded a few Tony Joe White songs in the '70s. "Polk Salad Annie" was one of his favorites and became a regular part of his set lists in the early part of the decade. A live version from February 1970 builds on a snaky swamp groove and bluesy performance by Presley that sidesteps the hammy stage banter that came later.

"The Wonder of You" (1970)

Recorded at one of Presley's first concerts from the '70s, "The Wonder of You," written by singer Ray Peterson, sounds like a showstopper from the very first notes. He clearly loved the song, keeping it in his shows until the middle of the decade. It reached the Top 10 in the U.S. but was bigger overseas, where it topped the U.K. chart.

"You Don't Have to Say You Love Me" (1970)

Dusty Springfield had a Top 5 hit with "You Don't Have to Say You Love Me" in 1966. Four years later, Presley's stormy version just missed the Top 10. He's in great form here, as he was for most of the June 1970 sessions that were eventually split between a pair of albums in late 1970 and early 1971.

Recorded around the time of the genre-jumping Elvis Now album, and just days after he laid down tracks for his second (and final) Christmas LP, "It's Only Love" eclipses Presley's other love songs from the period with piercing guitar stabs accentuated by soulful horns. He drives it all home with one of his most impassioned vocals.

"I Really Don't Want to Know" (1971)

The last great LP Presley made, 1971's Elvis Country (I'm 10,000 Years Old), was a concept album of sorts, wrapping up the history of country music in about 40 minutes. It needs to be heard in its entirety to be fully appreciated, but this Top 25 single, which ends Side One, stands on its own.

"Always on My Mind" (1972)

Dozens of artists have covered "Always on My Mind" since R&B singer Gwen McCrae debuted it in 1972. But Presley practically defined the song that same year when he recorded it just a few weeks after he separated from wife Priscilla. He was often accused of being on autopilot during his last decade. Not here. He means every word.

"An American Trilogy" (1972)

"An American Trilogy" -- a medley featuring "Dixie," "All My Trials" and "The Battle Hymn of the Republic" -- was originally envisioned by country singer Mickey Newbury. But once Presley wrapped his big voice around it, the song became a concert staple and one of the best tracks from his last five years.

Presley's last Top 10 hit is one of his best songs from his final decade. He was deep into spangled jumpsuits and kung-fu kicks by this point, but the vocal performance is prime Elvis. His band is at its '70s peak too. Incidentally, "Burning Love" (which made it to No. 2) was stopped from the top spot by Chuck Berry's "My Ding-A-Ling."

"It's a Matter of Time" (1972)

Recorded on the same day as "Burning Love," and released on the flip side of that Top 10 single, "It's a Matter of Time" made the Top 40 on both the easy-listening and country charts. If anything, the song shows Presley's versatility -- moving from the scorching "Burning Love" to this gently swaying ballad without missing a beat.

"Until It's Time for You to Go" (1972)

Buffy Sainte-Marie's "Until It's Time for You to Go" dates back to 1965, when she included it on her second album. It became a favorite of adult-contemporary singers in the early '70s, including Presley, who took his version to No. 40 in 1972. One of his best ballads from a period that had way too many of them.

Aloha From Hawaii Via Satellite gave Presley his first No. 1 album since 1964's Roustabout soundtrack. To keep the momentum going, he went to Stax studios in Memphis, where some of the world's greatest R&B records were recorded. The soulful "Raised on Rock" was one of the first songs from the 1973 sessions to be released.

Another of the Stax recordings from 1973, "Help Me" was one of the few songs from the sessions that revisited familiar gospel territory. The string-soaked mid-tempo country song -- like many of the tracks from the Stax set -- benefits from the performances by some of Nashville's best studio musicians, who keep things in line.

"If You Talk in Your Sleep" (1974)

Presley had to know his music was getting somewhat bloated following his world-conquering TV telecast from Hawaii in early 1973, so he was determined to get back to basics, similar to the way the Memphis sessions revived his career in 1969. The 1973 Stax recordings weren't nearly as historical, but this funky number is a keeper.

Recorded at the same Stax sessions that yielded a few other mid-'70s Presley gems, "It's Midnight" starts out as another one of his ballads from the period. But by the middle of the song, he and the band kick the song into another gear, launching it into the stratosphere with performances that stick all the big moments.

In 1973 Presley spent some time at Stax's recording studios in Memphis. They turned out to be the last major studio recordings of his career. The material was spaced out over the years, with his loose cover of Chuck Berry's "Promised Land" appearing on a 1974 single and a 1975 album of the same name. One of his last sparks.

"And I Love You So" (1975)

Presley wasn't in the best place in 1975. He almost burned out onstage the year before, and his records were becoming more maudlin and sappy by the session. "And I Love You So," a cover of a Don McLean song from 1970, is a rare highlight from the time. Presley liked singing it so much that he left "And I Love You So" in his set list until the end.

One of the last songs from 1973's Stax sessions to be released in Presley's lifetime, "My Boy" was originally a French song from earlier in the decade. Like a few other Presley tracks from the period, "My Boy" is about relationship troubles, something close to his heart at the time. That's probably why he sounds so committed.

"Hurt," written and first recorded in 1954, became a concert favorite of Presley's during his final years. It's easy to hear why: The song was a workout for anyone who attempted it, demanding a sustained note during its climax. Presley repeatedly hit it night after night, as well as on this 1976 studio version from his penultimate album.

Presley's final album, Moody Blue, is spotty, with most of the songs put together at loose sessions held at his Graceland home. The title track -- which hit No. 1 on the country chart, his last chart-topper -- is a brief sign of life, with a killer chorus that Presley, and his always dependable band, deliver with effortless grace.

Frank Sinatra had just turned 55 when he recorded his famous version of "My Way." Presley, on the other hand, was in his early forties, hardly cause for "the end is near" alarms. But he died at age 42 in August 1977, just two months after his popular live version was recorded. The single was released mere weeks after his death, reaching No. 22.

"Unchained Melody" (1977)

Lots of people have wrapped their big pipes around this song, including the Righteous Brothers, who had a Top 5 hit with it in 1965. Presley's concert version (included on the half-live album Moody Blue) was recorded less than four months before his death. It's mostly stripped down, until Presley and band bring it to a grand finale.

The song that was working its way down the Top 40 when Presley died on Aug. 16, 1977, was recorded nearly a year before at Graceland. "Way Down" peaked at No. 31 a couple weeks before his death, but managed to make it to No. 18 after devastated fans started scooping up everything by Presley they could get their hands on.