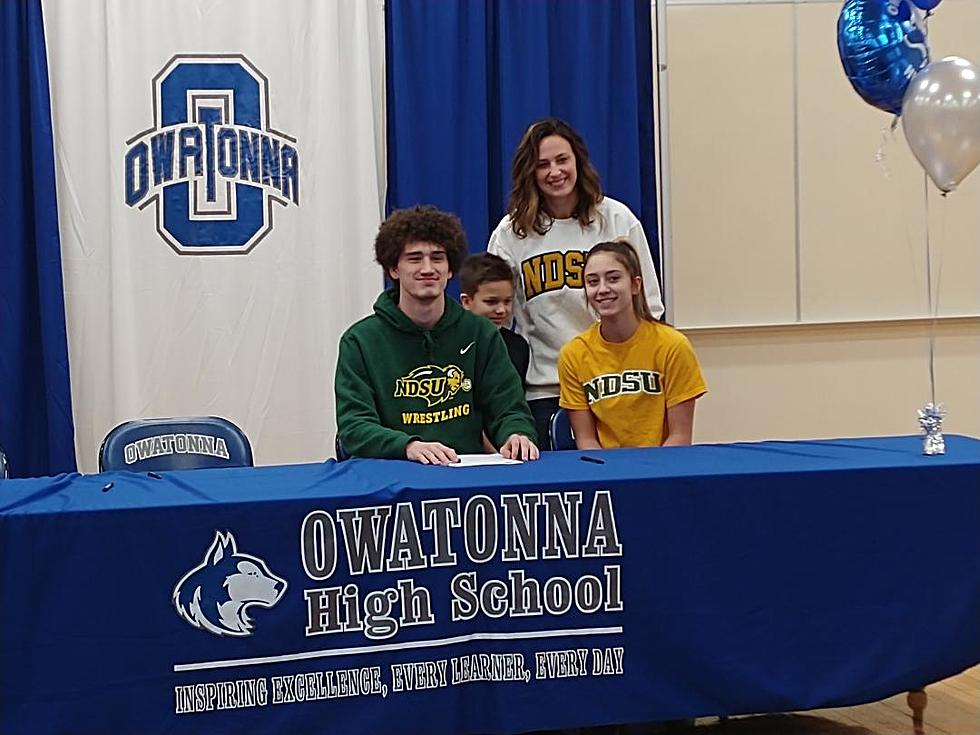 16 Owatonna Student-Athletes Make College Sports Commitment [Audio]
Roy Koenig/TSM
Family, coaches, teammates and friends gathered in the Owatonna High School Small Group Forum Wednesday to celebrate a big day and big decision. National Signing Day was a chance to recognize 16 OHS student-athletes who have made a commitment to play sports in college.
Most of the signees I spoke with (interviews included with many below) said the first part of their decision was picking a college or university for its academics then deciding on playing sports. Activities Director Marc Achterkirch echoed those sentiments during his opening remarks.
Two Huskies are going Division I. Three others have made Division II commitments. The list below is in the order introduced on Wednesday.
Taylor Schlauderaff - Gustavus Adolphus College, DIII soccer, major: psychology
Rian Grunwald - University of Wisconsin - Stevens Points, DIII wrestling, major: sociology (Rian Grunwald interview)
Grant Achterkirch - University of St. Thomas, DI football, major: criminal justice (Grant Achterkirch story)
Landen Johnson - North Dakota State University, DI wrestling, major: undecided (Landen Johnson interview)
Kanin Hable - Simpson College, DIII wrestling, major: medical field (Kanin Hable interview)
Caleb Vereide - University of Northwestern - St. Paul, DIII baseball, major: accounting (Caleb Vereide interview)
Preston Meier - Concordia University Wisconsin, DIII lacrosse, major: marketing (Preston Meier interview)
Brayden Williams - Bemidji State University, DIII basketball, major: undecided
Lexi Mendenhall - North Iowa Area Community College, NJCAA basketball, major: undecided (Lexi Mendenhall interview)
Olivia Herzog - University of Wisconsin, Eau Claire, DIII hockey, major: business
Mason Zirngible - University of Dubuque, DIII track and field, major: undecided
Max Zirbgible - University of Dubuque, DIII track and field, major: human health science
Dylan Maas - University of Wisconsin, River Falls, DIII football, major: undecided (Dylan Maas interview)
Zoe Anderson - Baldwin Wallace University, DIII lacrosse, major: chemical engineering
Paris Hovden - Minnesota State University - Moorhead, DII softball, major: social work (Paris Hovden interview)
Kya Dixon - Concordia University - St. Paul, DII track and field, major: sports management (Kya Dixon interview)
11 People On The Women's Olympic Hockey Team Have Minnesota Ties