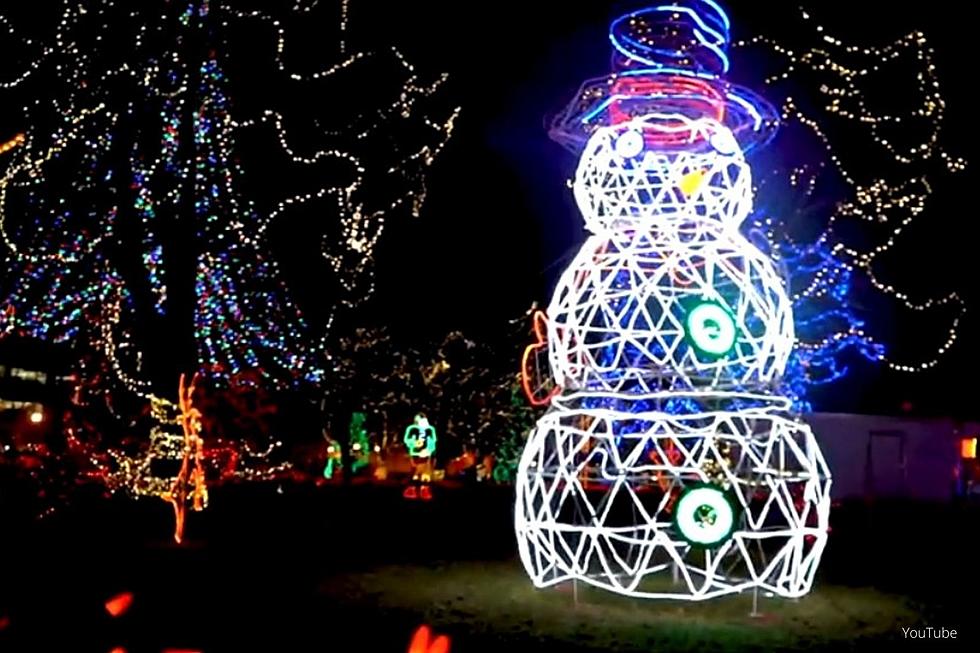 $10,000 Theft Reported at Huge Christmas Light Display an Hour From Rochester
YouTube
The prep work and setting up has already started for the Rotary Lights in La Crosse, Wisconsin but unfortunately, someone has decided to be a grinch and steal some of the necessary equipment.  It's the first time in 26 years that someone has taken from this charity and the loss could be close to $10,000.  The organizers are asking for the community to "be on the lookout".
Rotary Lights in La Crosse, Wisconsin Sees Vandalism for the First Time in 26 Years
One of the magical places in the midwest between Thanksgiving and Christmas happens just over the Mississippi River in La Crosse, Wisconsin.  There are thousands of lights, displays, live music and even places where you can warm up in a huge park on the edge of the Mississippi River.  I had a chance to go last year with my daughter and although it was a grand temp of 0 when we strolled through, we had a blast.
After 26 years, for the first-time ever, vandalism and theft has occurred and the president of Rotary Lights, Pat Stephens, is asking the community for some help:
"For 26 years the Rotary Lights Project has always taken pride in the fact that there has never been any vandalism or theft in Riverside Park. That all changed last weekend [October 23-24, 2021].
About 70 electrical pedestals were moved to the park last Friday to begin the process of lighting the park. On both Saturday and Sunday evenings vandals cut the cords on many of those pedestals. It was assumed they wanted to take the cords with the hope that the copper content would be worth some kind of monetary award. Replacement cords are $2.00 per foot so our loss could be close to $10,000. We have alerted all wire dealers in a wide area of La Crosse to be on the lookout for anyone trying to cash cords in for gain.
We are working closely with the La Crosse Police Department, have filed formal reports, and are in the process of checking any and all security cameras that service the park area. Our security group that usually monitors the park starting in November, have been called in early in hopes of eliminating any further damage. If we identify the perpetrators, we will prosecute to the full extent of the law.
Rotary Lights has the special mission of "feeding the hungry". We ask for the community's help in keeping an eye on the park and to make note of any suspicious activity. As a community we can restore the pride that we will not have vandalism or stealing that in reality takes away from the Rotary Lights mission."
If you or anyone you know has information relating to this incident, please call the La Crosse Police Department at (608) 782-7575. - Rotary Lights Facebook Page
Add Rotary Lights in LaCrosse, Wisconsin to your bucket list this winter!
Rotary Light in LaCrosse opens on November 26th this year.  You can drive through or walk through and enjoy the gorgeous lights that are absolutely everywhere.  Santa and Mrs. Claus along with some of their reindeer usually show up too!  The whole thing is to bring joy to everyone this Christmas season and help feed those in the area - so if you can, please bring along a non-perishable food item or a monetary donation.  You can learn more here.
Listen On-Demand below, with the Y105FM app, and on the following podcast platforms: Apple Podcasts | Google Podcasts | Spotify
Just in case you are already shopping for Christmas, here are the top toy stores in Rochester, Minnesota
Toyland at Fleet Farm has already opened and that is one of the 7 toy stores in the area that you are going to want to visit this Christmas season.  You can see the full list of toy fun below.
Top 7 Toy Stores in the Rochester, Minnesota Area
"What are the best toy stores in Rochester?".
If you hang out on social media at all, you will see this question a kazillion times between now and Christmas. If you are on the hunt to find the best and most perfect toy for your kids, look no further. Below are 7 spots in Rochester that have a great selection for all your toy shopping needs.