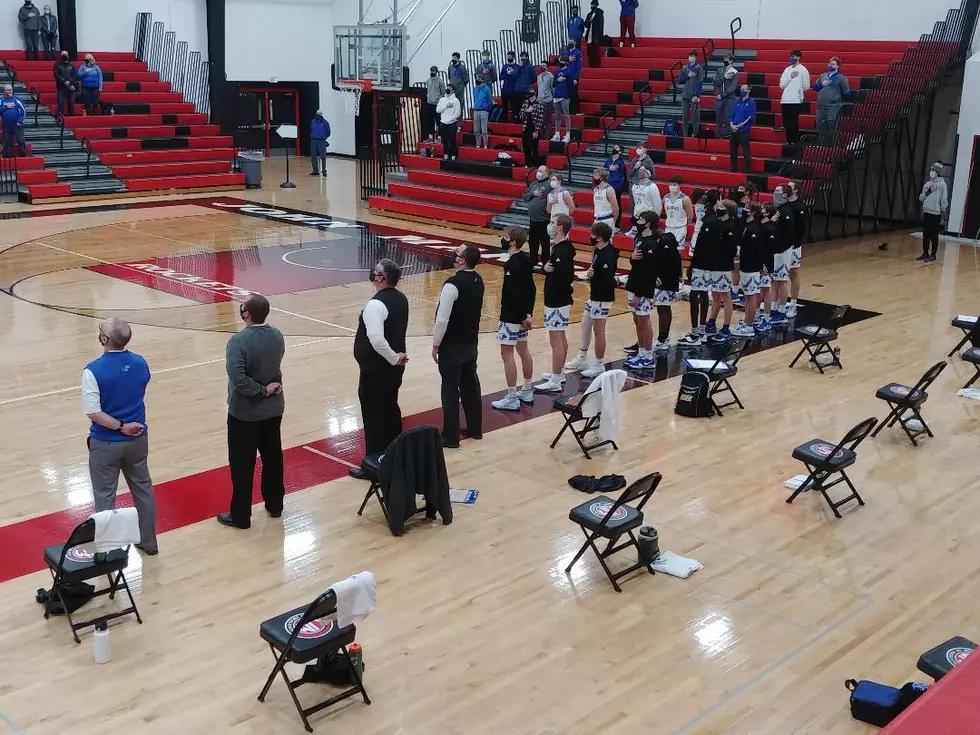 Owatonna Will Play Shakopee in State Tournament
Roy Koenig/TSM
Owatonna will play Shakopee in the state boys basketball tournament on Wednesday, March 31 at Hastings High School at 7 pm. Quarterfinal games are at high school sites across Minnesota in quasi-regional areas. Winners advance to Target Center for the semifinals April 7 and 8. The Huskies-Sabers winner plays April 8 at 8 pm. Championships are all on April 10 for the boys.
In the modified seeding format for this year, Owatonna (17-3) got the fourth seed in the south, while Shakopee (16-5) was seeded first in the south. The Sabers are a South Suburban Conference team and were rated sixth in the last Minnesota Basketball News poll. Owatonna was ranked 19th.
Owatonna won the Section 1AAAA title with strong offensive balance from Brayden Williams, Payton Beyer and Ty Creger in the absence of center Evan Dushek, who was out with an ankle injury.
Shakopee has three players who average between 10 and 13 points and plenty other contributors on a team that finished second behind Eastview in the South Suburban. Shakopee advanced to the section title game in 2020 but did not get the chance to play it. The Sabers are making their ninth state tournament appearance and won the title in 2005. This is Owatonna's seventh state appearance with back-to-back championships in 1989 and 1990.
Class AAAA quarterfinals
Owatonna vs Shakopee
Duluth East vs Wayzata
Maple Grove vs Champlin Park
Rosemount vs Cretin-Derham Hall
See the full brackets on the Minnesota State High School League website.
Byron won the Section 1AAA title over Austin. The Bears will meet No. 1 rated Minnehaha Academy and the nation's top recruit Chet Holmgren right before the Huskies and Sabers play at Hastings on Wednesday.
Class AAA
Monticello vs Alexandria
Richfield vs Mankato West
Byron vs Minnehaha Academy
Hibbing vs DeLaSalle
Class AA
Waseca vs Morris Area/Chokio-Alberta
Fergus Falls vs Annandale
Moose Lake/Willow River vs Minneapolis North
St. Croix Lutheran vs Caledonia
Class A
Hancock vs Nevis
Sleey Eye St. Mary's vs Central Minnesota Christian
Hayfield vs Legacy Christian, at Mayo High School, March 31
Badger/Green Bush/Middle River vs Deer River
Enter your number to get our free mobile app
I'm not aware of a 'Husky' Airbnb, but there is apparently a 'Wolf Den' airbnb that people are pretty excited about in Minnesota. Take a look.
CHECK THIS OUT: Enchanting 'Wolf House' is the Most Wish-Listed Airbnb in Minnesota
This beautiful Airbnb in Minneapolis, Minnesota dubbed "The Wolf House," in the Northeast Minneapolis Arts District, 90 minutes from Rochester, is the
most wish-listed Airbnb in the state
.