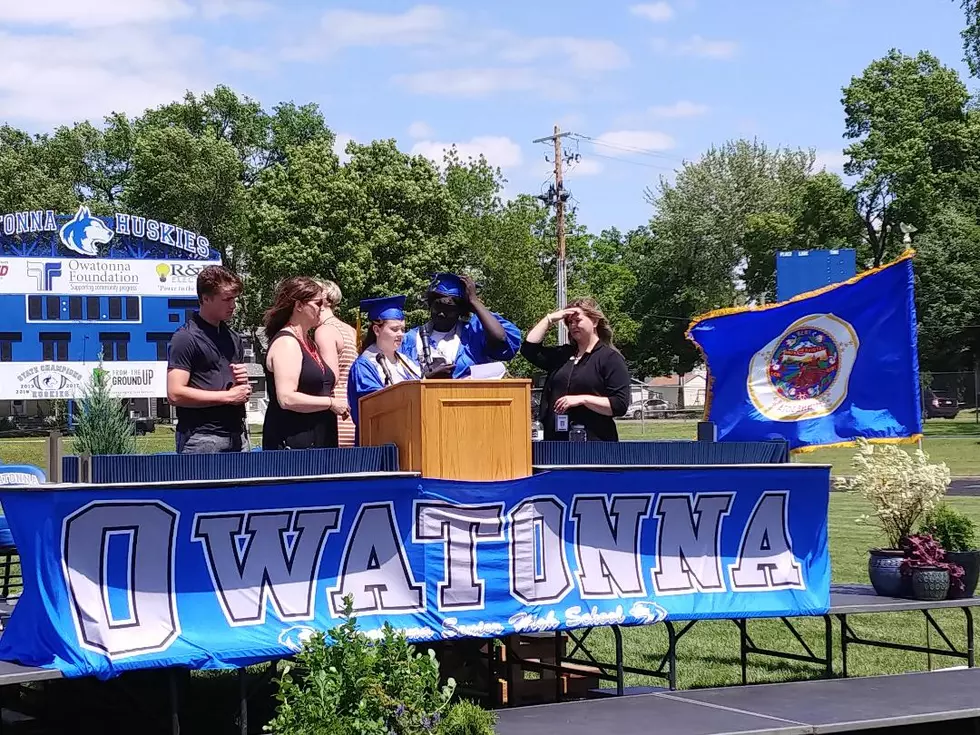 Owatonna High School Commencement is Historic – And Very Hot
Roy Koenig/TSM
Owatonna High School's commencement was back on campus Sunday for the first time in many years. Last year's parking lot graduation at Federated Insurance due to the pandemic ended the string of years at the Four Seasons Centre. The 145th commencement also marked the 100th anniversary of the current OHS.
Principal Kory Kath spoke of the desire of the Class of 2021 to be together for graduation. He said the students had regular events taken away from them as seniors and as juniors.
Kath stated, "This is truly an event for the history books. We are gathered here at OHS, which is 100 years old this year. I would love to know what the first graduating class in this building would think now. They would definitely have to recognize the amazing accomplishments, depth of learning and incredible pathways that are graduates are creating."
Student speaker Megan Copeland shared thoughts of how time moves by and her first time as a freshman in the gym at a pep fest. She told her classmates to look for the beauty in everything, even if it doesn't seem there is any. Copeland also implored her classmates to not judge people by what they see, while pointing out she doesn't see anything.
Copeland, who is blind, was a state speech participant for OHS as a senior. She has also been active in Young Life and reading at nursing homes among her activities. She plans to pursue a career in court reporting.
Speaker Wlio Omot was involved in Student Council, Mixed Roots and manager of the football and baseball teams among her activities. Omot plans to get into social work. She spoke of the different racial and social experiences that she and her classmates have dealt with and how rewarding it was to be back together for events and sports as the school year went on.
Special guests from the teaching staff on hand included Dean Walters, Scott Noet, Pat Churchill, Lauren Gendron. Doug Wanous, Pete Guenther, and Kelly Pirkl. School counselors Tami Langlois, Sara Craig, Amy Lageson and Margo McKay honored the 376 diploma recipients with the name announcements.
Bleachers were packed at the OHS football stadium. Strong wind helped make the 90-degree weather a bit more tolerable. Attendees also gravitated toward any shaded area around nearby buildings.
Enter your number to get our free mobile app
STAR STRUCK: See Where These 15 Celebrities Went to High School in Minnesota
SAY WHAT? 15 Minnesota Town Names That Are Hard to Pronounce