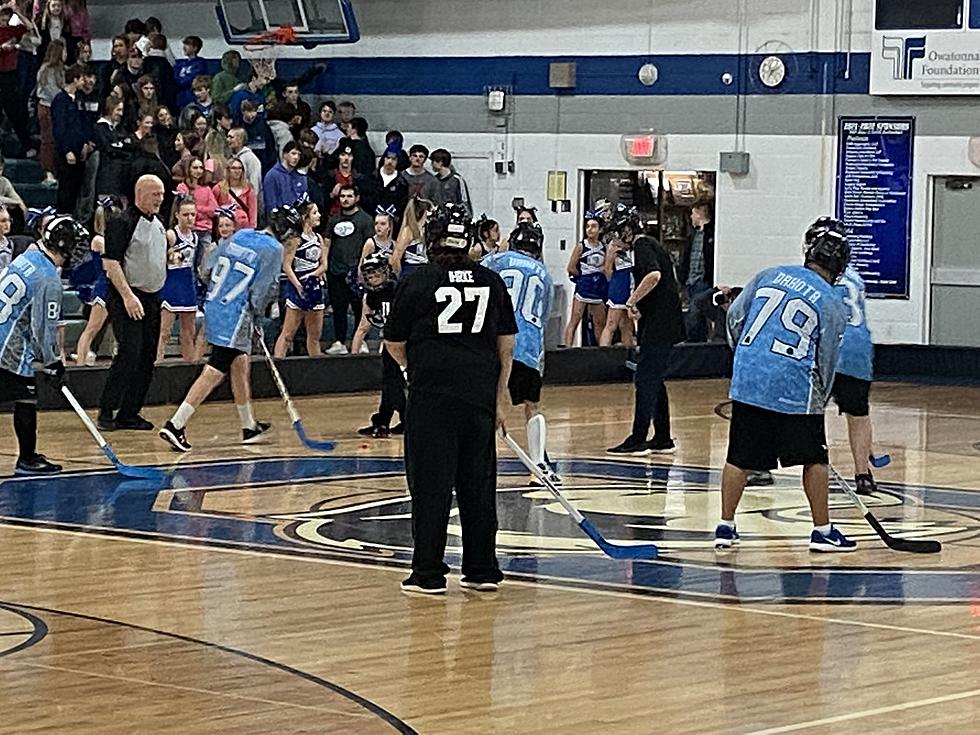 Owatonna Floor Hockey Rides Winning Streak to State Tournament
@OwatonnaHuskies on Twitter
[UPDATE: OHS lost their game Friday and will play in the consolation round Saturday at 9 am.]
Owatonna's adapted floor hockey team got a roll at just the right time. After dropping their first five games of the season and not generating much offense, the team takes a four-game winning streak into the state tournament on March 18 and 19 at Bloomington Jefferson High School.
Coach John Scheil says the team got healthier as the season progressed, "We had some players who were gone. So we didn't really have a full team. And then we won our last two regular-season games. Everyone was there. So we had some momentum going into the playoffs and we won our first game against Mankato and went to the second round and won our game against White Bear Lake to head to the tournament."
Senior Javelle Higgs has done a lot of the scoring, but Scheil said, "When we played White Bear Lake, it was a great game. We had a lot of kids who stepped up and scored. Chloe Talley is another senior who is very good at finding the net. This year she's played a lot of defense." She converted some offense opportunities that night.
OHS adapted floor hockey coach John Scheil
Other seniors include Kerryn Keller, Jessica Parsons and Ryan Gander. The official roster through the Minnesota State High School League lists junior Emilee Morrett, sophomores Alexis Talley and Isabel Ihrke, freshman Jesse Fonner and eighth-graders Kyle Goergen, Joseph Poole and Josiah Aviles to round out the Huskies team.
CW Wolfe and Kyle Burns join Scheil on the coaching staff.
Scheil added that it took a little while to get used to playing games again after the 2021 season was limited to a series of practices due to the pandemic and no season or state tournament.
The Huskies schedule at state starts Friday, March 18 versus Burnsville/Farmington/Lakeville at 6:30 pm. The championship semifinals are Saturday, March 19 at 12 pm. The consolation round plays at 9 am Saturday. The tourney wraps up Saturday. All games are at Bloomington Jefferson High School.
Strangest Home in Wisconsin is Like Living in a Jungle
A home for sale in New Berlin, Wisconsin has lots of acres and the home is huge but it's a little strange. It's like you're living in a jungle.
Top 32 Things that Stress Out People While They are Driving
You hop in your car and are ready to go but then panic sets in because _______.
There are so many answers that can go in that blank. In fact, you may have had one of those stresses just a little bit ago in your car. Look below to see some of the top things that stress people out while they are driving in Minnesota, Iowa, Illinois, and Wisconsin.
5 Great Places To Run Outside In The Northland
12 Nostalgic '90s Classics That Are Great Movies
These fantastic films from the 1990s still hold up decades later.