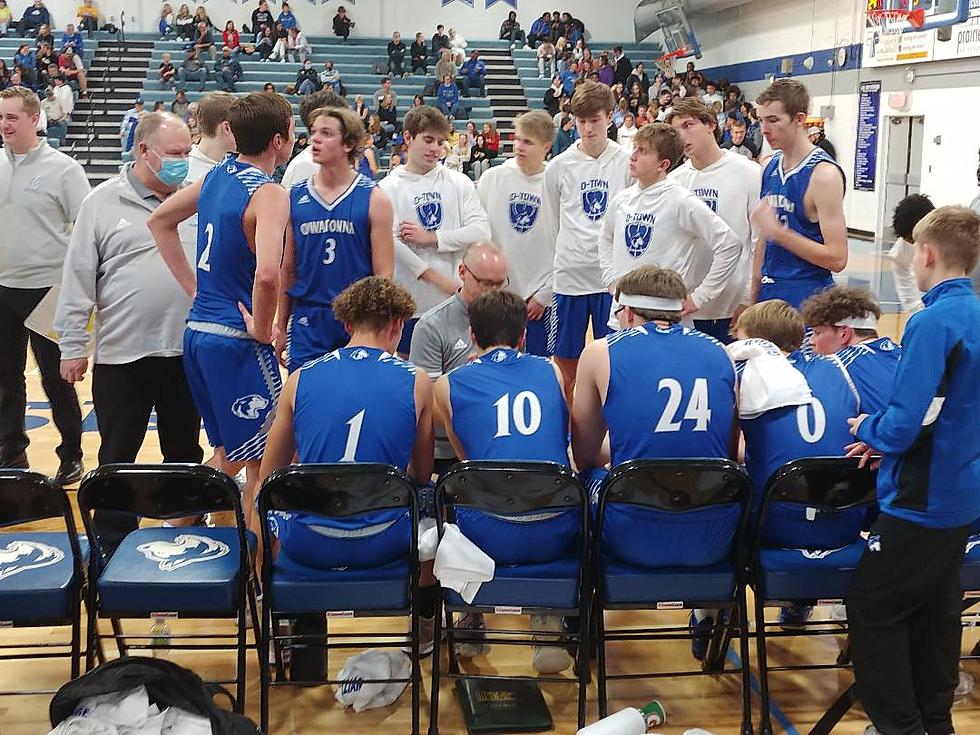 Owatonna Beats Another Ranked Team to Stay Unbeaten in Big 9
Roy Koenig/TSM
The Owatonna High School boys basketball team edged Mankato East 79-77 Saturday night, January 22 at the OHS gym to improve to 10-2 overall and 8-0 in the Big Nine. It also give the Huskies six wins over ranked teams from Minnesota and Wisconsin.
Evan Dushek led the Huskies with 22 points. Blake Burmeister and Ty Creger added 18 apiece. Brayden Williams scored 17. B. J. Omot led East with 28. Owatonna plays at Red Wing Tuesday, January 25 at 7:30 pm with coverage on AM 1390 KRFO, 94.7FM and the free KRFO app.
Huskies boys hockey beat Red Wing Saturday 7-2. Owen Beyer had two goals and an assist. Joey Dub had a pair of assists. Caleb Veriede, coming off a four-point night in a Saturday win over John Marshall, had a goal and an assist. Ashton Hoffman also had a goal and an assist. Devon Rousch had two assists. Sam Pfieffer got the win in goal. The Huskies host Mankato West Thursday, January 27.
Owatonna wrestlers finished sixth at the East Ridge Ruckus Saturday. Landen Johnson won the title at 160 pounds, beating ranked competitors in the semifinals and finals. Cael Robb and Jacoby Reinardy were runners-up. The Huskies go to Mankato West Thursday.
The OHS girls basketball team lost at top-ten rated Mankato East 55-44 Saturday afternoon. The Huskies host Red Wing Wednesday, January 26 at 7:30 pm. That is a schedule change due to the shortage of officials. The game will be heard on AM 1390 KRFO, 94.7FM and the free KRFO app.
Enter your number to get our free mobile app
The 10 Sounds of a Minnesota Winter
We love to hate the winter in Minnesota, especially in January and February. But in the winter there are some sounds that can only be heard in the wintertime. Some are very pleasant and others not so much.