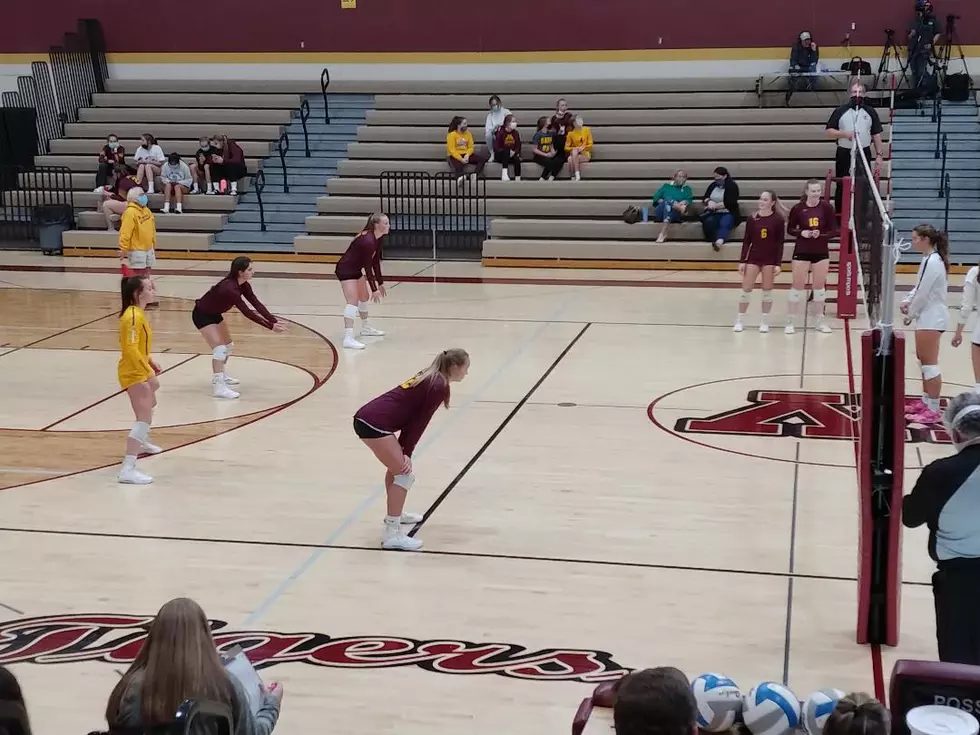 Medford Powers Past Blooming Prairie
Roy Koenig/TSM
For a team that lost four All Conference players to graduation, Medford still showed a deep wealth of options in a three-set sweep of Blooming Prairie (25-15, 25-13, 25-19) Tuesday night at the Medford gym. The Tigers had four players with seven or more kills. Blooming Prairie also had some strong hitting, but had multiple hitting errors on spikes that went barely long or wide of the sideline.
Medford was led by Gopher Conference 2nd Team All Conference from 2019 Kinsey Cronin who had about 12 kills, half of those in the second set. Isabel DeLeon hammered down about ten balls, half of them in the third set. Clara Kniefel and MacKenzie Kellen also put up consistent numbers for the night. Three of those four hitters are juniors.
Jenna Berg and Julia Niles handled the setting, while Brooke Purrier wore the libero jersey and turned in a solid night of digging.
The Tigers graduated Emma Kniefel and Kiley Nihart (1st Team All Conference), Morgan Langeslag (2nd Team All Gopher Conference) and Izzy Reuvers (honorable mention) off their section title team from last fall.
Blooming Prairie went back-and-forth with Medford to begin each set. In the first, the teams were tied at 9-9 when the Tigers went on a 7-2 run. In the middle stanza the score was 10-7 when the Tigers when on a 10-2 burst. In the final game, BP was within 11-8 when Medford grabbed control on a 7-3 run.
The Awesome Blossoms were led by Megan Oswald, Micalyn Trihus, and Sierra Larson with five kills apiece. Trihus added six digs, two ace blocks, and three ace serves. Larson had three ace blocks and an ace serve. Maren Forystek had ten digs. Maggie Bruns handed out 11 set assists and picked up three digs.
Medford (1-1) hosts NRHEG Thursday, October 15. BP (1-1) has their home opener Thursday with United South Central.
Several BP volleyball players are homecoming queen finalists. Trihus, Bruns, Oswald, Jessica Ressler, and Abby Braaten are up for queen. The king candidates are Mitchell Fiebiger, Charlie Heimerman, Jacob Naatz, Cole Christianson, and Luke Larkoski. Homecoming week begins October 25.
Enter your number to get our free mobile app
MORE TO EXPLORE: Can You Identify These Southern Minnesota Places From Above (Part II)
INCREDIBLE: See Inside George Strait's Spectacular Texas Mansion
WINING: Minnesota's Winning-est Lottery Cities of 2020