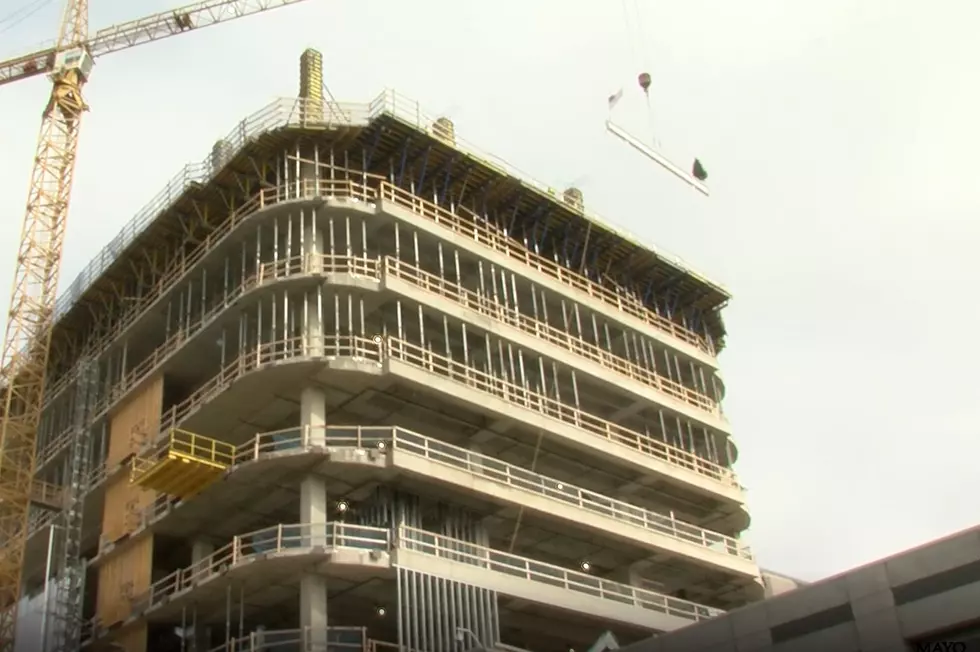 Mayo Clinic Celebrates 'Topping Off' of $120M Research Center
Courtesy Mayo Clinic News Network
Rochester, MN (KROC-AM News) - A "topping off" ceremony was held today to mark a significant milestone in a major downtown Rochester construction project.
Mayo Clinic leaders were joined by Rochester community leaders in the signing of a commemorative beam before it was installed at the very highest point of the Anna-Maria and Stephen Kellen building at the intersection of Third Street and 4th Avenue Southwest. The "topping off" ceremony is a long-held tradition that celebrates when a building or other structure under construction reaches its full elevation.
The 11-story building will have 176,000 square feet dedicated to Mayo Clinic research. According to a Mayo Clinic news release, the new building will "include flexible facilities for basic and translational investigation to address serious and complex conditions, as well as a prominent focus on discovery in cancer research."
"The new building will accelerate research in support of Mayo Clinic's strategy by further coalescing investigators and technology to advance biomedical discoveries," says Gregory Gores, M.D., Kinney Executive Dean of Research, Mayo Clinic. "We are relentless in our pursuit to translate scientific discoveries into breakthrough therapies for patients who look to us for hope and healing. Our research community is thrilled to see this midway point for the building."
The design of the building features a very distinctive exterior, along with subway connections to the Opus Imaging Center and Mayo Clinic Baldwin Building. It was previously announced that the New York-based Anna-Maria and Stephen Kellen Foundation is contributing more than $49 million to help cover the $120 million price tag for the research facility. The new building is scheduled to open near the end of next year.
2022 Halloween Haunted Houses, Events, and Attractions in The Rochester Area
Scroll through the official 2022 guide for
Halloween
haunted houses, events, and attractions in Rochester and the Southeast Minnesota area.