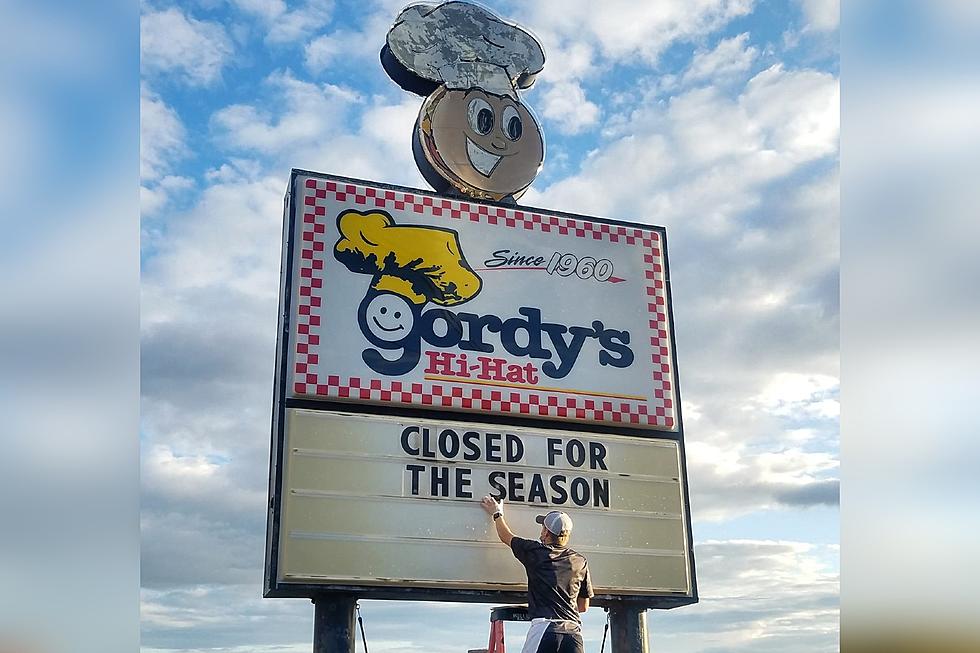 Gordy's Hi-Hat Closing Later Than Usual This Year
Courtesy of Gordy's Hi-Hat via Facebook
This is always a sign that summer is over and fall is near! Gordy's Hi-Hat announced their closing date for the 2023 season. There is good news though: they will be staying open a bit later this year so we have extra time to feast on all the classics they order.
The seasonal business always opens at some point when spring is near and closes before winter really hits. This year, they opened on March 22nd. It will be a bit of a longer season as they officially close for the season on Sunday, October first.
They shared the news on social media Friday (August 25th), writing that they are staying open for a few extra weeks this year. This is the sixty-third season so they have the whole opening and closing thing pretty set at this point. It is exciting that they are changing things up a bit this time around and staying open longer!
People come from all over Minnesota to eat at the iconic spot. Gordy's sells classics like burgers, fish sandwiches, salads, milkshakes and more. Even Guy Fieri is a big fan, filming two different episodes of Diners, Drive-Ins And Dives at Gordy's over the years. That's how you know it is good!
I don't know about you but I am hungry just simply writing about this! It is going to be a long winter without Gordy's Hi-Hat. We will have to wait and see when our other seasonal businesses close up shop for the season so we can feast accordingly.
Six Duluth / Superior Restaurants Featured On Diners, Drive-Ins And Dives
Captivating Superior Home Offers 230' Of St. Louis River Frontage For Under $600K
Who says you have to live out of the city to have country living on the water, complete with 230' of St. Louis River frontage? A
recent listing
in Superior offers all that and more.
This 2,260-square-foot Superior home was built in 1973 and features 3 bedrooms and 2 baths. A private road leads you to the one-acre property, which is surrounded by greenery & mature trees. The first thing you notice once you stop outside is the tranquil sounds of the river.
Inside, you'll find a seamless floorplan featuring a bright living room with oversized windows, and beautiful floors. In the dining area and kitchen, you'll find colorful cabinets, plenty of counter space for food prep and conversation, and unique custom bar stools.
A favorite room will absolutely be the sunroom, a "tree-top nest" that is the perfect place to relax and enjoy the serene views of the yard.
The lower level family room is designed for relaxation and entertainment, offering extra space for lounging, movie nights, or hosting gatherings. Natural elements, such as a custom wood-burning stove, and surrounding wooden accents are the perfect touch.
This home also features a two-car heated & insulated garage, providing convenience and extra storage space for your vehicles and outdoor gear plus a freshly stained exterior.
With 230' of river frontage, the fully fenced yard backyard is an oasis with a spacious deck and a private path that leads you to the riverbank, where you can enjoy fishing, kayaking, or simply savoring the serenity of the water.
Take a look below, all of this could be yours for $574,900.