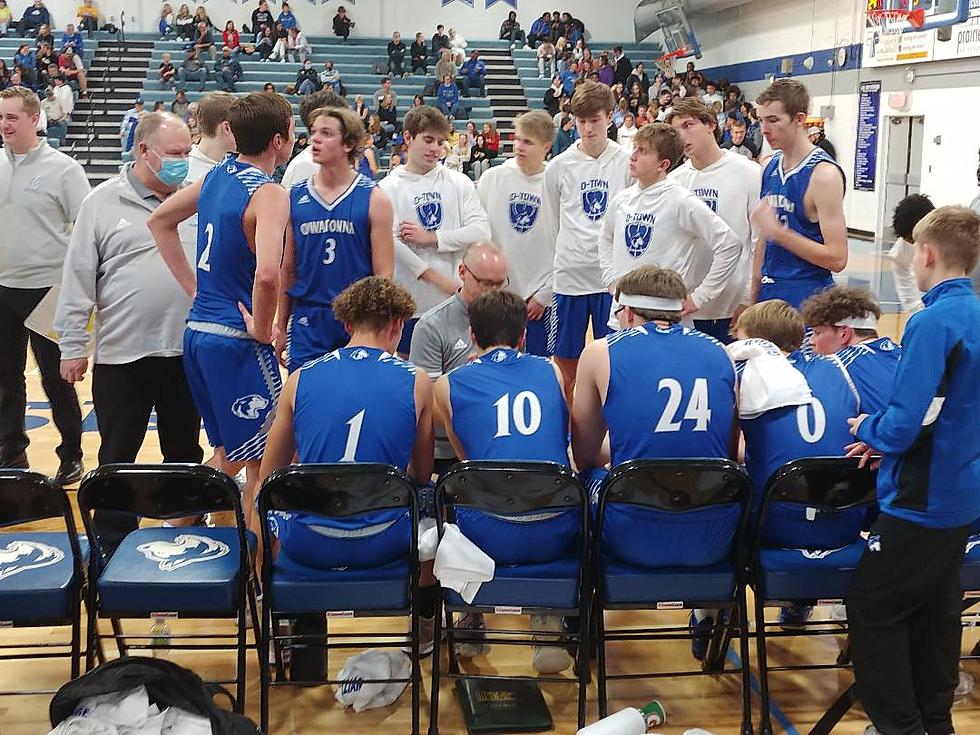 Huskies Run Away with Big Nine Title, 'Still a Lot of Work to do'
Roy Koenig/TSM
When the Owatonna boys basketball team takes the floor at Rochester John Marshall Wednesday, February 23, they'll be playing for the first time since clinching the Big Nine title last Friday with a come-from-behind win over Faribault.
With four games to go, the Huskies have a five game lead. It's Owatonna's seventh overall Big Nine championship, and first since the 2010-22 season.
Coach Josh Williams said on Saturday's AM 1390 KRFO Coaches Show, "It's been about a decade. We've had some good teams over the last ten years that have been really close. Big Nine is just a heckuva good conference, especially when it comes to the basketball court. When you look at the history of teams and how they done, even in state runs, teams like Austin, Mankato East, Mankato West."
"Fortunately, so far, so good in terms of how we've played. Being able to put ourselves in this position to be Big Nine champs. But there's, as we talked about in our locker room last night (Friday, February 18), a lot of work to do yet in regards to what we want to accomplish this season."
After Wednesday's makeup game at JM, the Huskies host Mankato West Thursday, February 24, go to Mankato East Wednesday, March 2 and close the regular season hosting Red Wing Friday, March 4.
Conference standings entering play on Wednesday, February 23:
Owatonna 18-0
Mankato West 12-5
Mankato East 12-6
Red Wing 11-6
Austin 11-7
Century 10-8
Winona 9-8
Mayo 8-10
Northfield 8-10
John Marshall 5-12
Faribault 2-16
Albert Lea 0-18
Section 1-4A is pretty stacked with four teams ranked in the top 20 by the Minnesota Basketball News. The defending section champ Huskies are No. 8. Farmington, who has beaten both Lakeville North and South, is rated 10th. North, back into the section this season, is 11th. Last year's section runner-up South is 20th.
Overall records for Section 1-4A (with QRF ranking)
Owatonna 20-2 (9th)
Lakeville North 16-6 (10th)
Farmington 16-7 (13th)
Lakeville South 13-10 (15th)
Century 12-10 (40th)
Mayo 11-11 (41st)
Northfield 10-11 (43rd)
John Marshall 7-13 (59th)
Enter your number to get our free mobile app
Minnesota's Breathtaking Frozen Attraction Is 1 of Only 6 In All of North America
It started as a backyard project by a cool dad and has grown to be one of the most amazing winter attractions. Your family will love exploring The Ice Castles in Minnesota. Below you'll see some incredible images captured onsite, find directions, and ticket info.
16 of Minnesota's Weirdest Street Names
There are way more than 16 weird road/street names in Minnesota, but these are definitely the top 16!