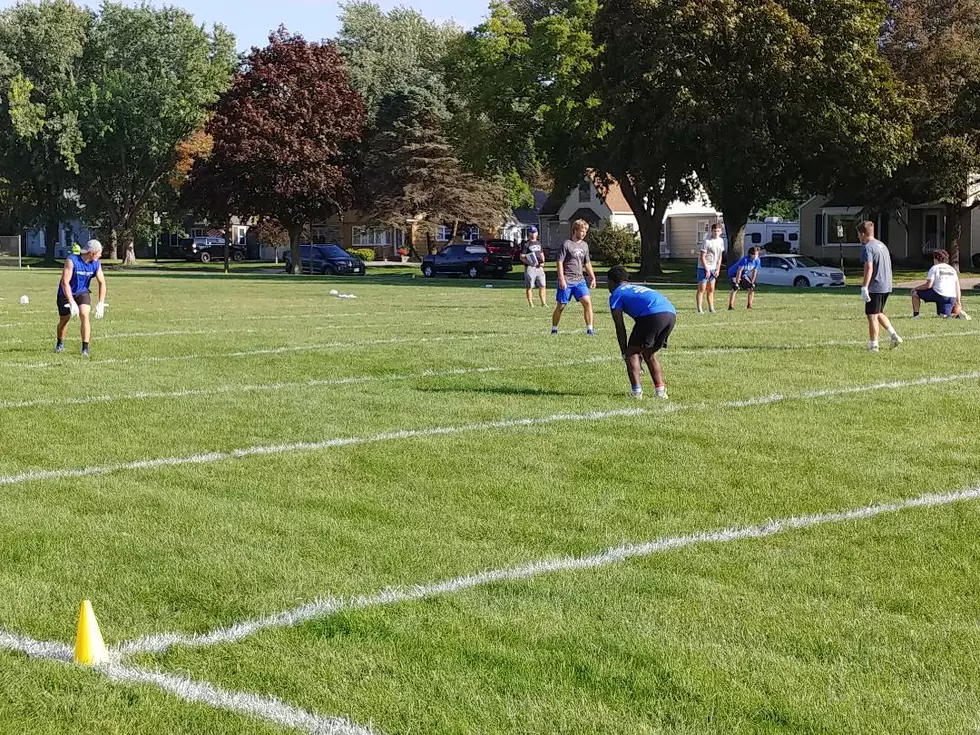 Huskies, Awesome Blossoms Audible to Season Prep
Roy Koenig/TSM
High school football and volleyball training sessions began Monday, September 14. Those sessions are now the pre-practice before the real practice begins September 28 after the Minnesota State High School League voted Monday, September 21 to reinstate those sports as fall activities. In early August the high school league had shifted football and volleyball to a new spring season due to pandemic concerns.
The new plan is for a six-game football season with the first contests on October 9 or 10. Volleyball will play a 14-match season with the earliest date October 8. Each sport will have a limited postseason.
Local football coaches on the AM 1390 KRFO Coaches Show Saturday, September 19 believed the momentum had swung in the favor of a fall season and they were ready to move forward with season plans.
Owatonna High School coach Jeff Williams said, "We have been working out doing 7-on-7 passing, doing some speed development, doing some weight training. But I told the kids to bring their helmets (Thursday). We're going to start installing some offense coming out of our team camp we had in August. And then on Friday (September 18) we're going to put the shoulder pads on. We're going to start working on some defense."
The Huskies are the defending Section 1-5A champs, "I really like what I'm seeing in 7-on-7. We've got a lot of guys that can throw and a lot of guys that can catch it...We've got linemen. We just don't have a lot of them."
Williams added, "If COVID has taught us anything, it's that we need to be very nimble and able to change with changing guidance and changing decision making and if you believe that you can have the next three to four weeks of your life mapped out and nothing is going to change, then obviously you've had your head in the sand for the last six months."
Enter your number to get our free mobile app
Blooming Prairie football coach Chad Gimbel said there are challenges to maintaining health protocols, "We've been talking as coaches as we've been practicing. One of the biggest ones is trying to keep our kids from crossing over in our pods...We mask our kids up whenever they are going to be within six feet...Our biggest thing is making sure we follow the guidelines and protocols that are laid out."
Gimbel is excited to get back on the grid iron with the defending state Class A champs, "I do feel that our kids have a lot of pride. I feel like they are practicing like they want to defend that. They know what's coming up in the season as far as having a target on their back."
By playing all the way through Thanksgiving weekend last year, gives the Awesome Blossoms many players with experience, even as they graduate a fair number from the title team, "They are all competing for those spots, friendly competing. One thing that we found out is playing that deep into the playoffs really made a difference with all of our kids...We had three, four more weeks then a lot of teams did. And that's huge when you start looking at practice time. We told these kids, 'You guys competed every single day in practice against the best team in the state. You guys are prepared for this season'"
While there is an indication that there will be a couple of weeks of playoffs. There is not likely to be a state tournament-type of wrap up to the season.
CHECK THIS OUT: Escape Minnesota Without Leaving the State by Visiting these 10 Places