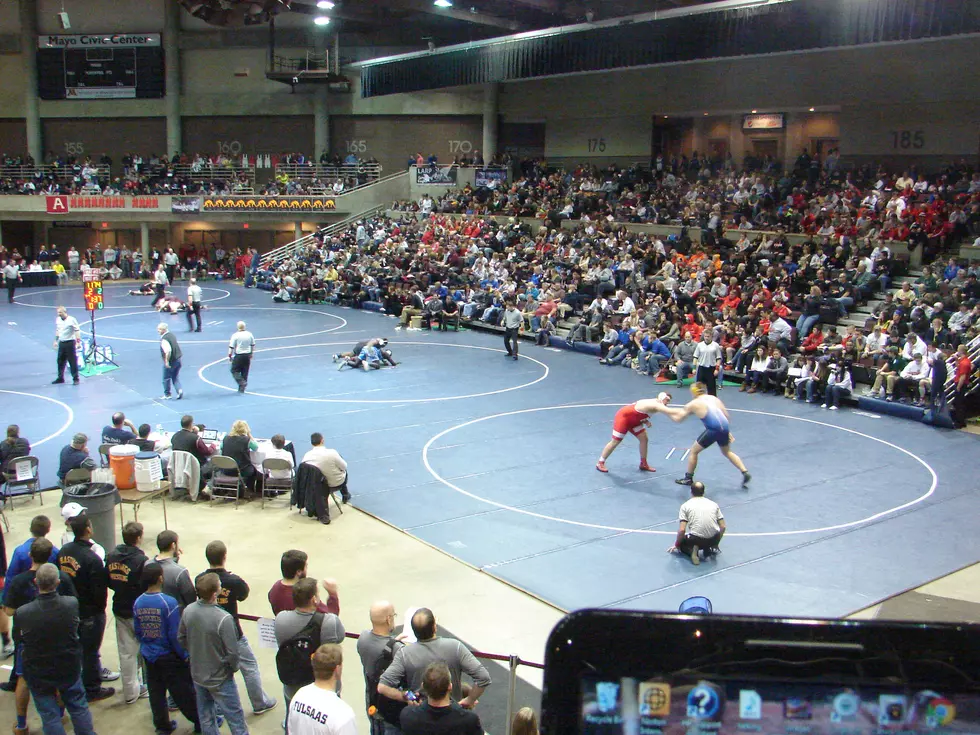 Due to Format Change Owatonna Will Open Sections on the Road
Roy Koenig, Townsquare Media (2015 photo)
You can usually count on the Owatonna High School wrestling team being a high seed for the section tournament, meaning a home match to open up pursuit of a state tournament bid. But with a format change this year, Owatonna - despite a fourth seed - will open on the road as part of a pod of four teams at top-seed Northfield on Thursday, February 17.
Hear the Huskies matches on AM 1390 KRFO and 94.7 FM
The Huskies will face No. 5 seed Austin at 6 pm. While the Raiders will wrestle No. 8 Winona at the same time. The winners will meet in the semifinals thirty minutes after the quarterfinals conclude. Only the finals will be staged at Mayo Civic Center in Rochester. That will be Saturday, February 19 at 2 pm.
Owatonna coach Derek Johnson says the team is healthy for the tournament, "Knock on wood, we're going to continue to stay healthy. We might be getting another guy back from concussion protocol. We're getting healthy at the right time. Lot of guys trending the right way."
Speaking on the Coaches Show last Saturday Johnson said the team would be ready for Northfield and Mayo when the time comes, "We know that in both of those duals there were some rubber matches that could have gone the other way that would have impacted the score a lot. We're right in the hunt still."
As the No. 2 seed, Mayo will face No. 7 John Marshall at 6 pm at Mayo High School. No. 3 Faribault and No. 6 Century will square off at the same time with the semifinal to follow.
Section 1AA and Section 1A have the traditional schedule of holding semifinals and finals Saturday at Mayo Civic Center.
Wrestling schedule
Section 1AAA
Thursday, February 17 at Northfield
No. 4 Owatonna vs No. 5 Austin, 6 pm on AM 1390 KRFO/94.7 FM
No. 1 Northfield vs No. 8 Winona/Winona Cotter
(Winners meet in semifinals.)
Thursday, February 17 at Rochester Mayo
No. 2 Mayo vs No. 7 Rochester JM
No. 3 Faribault vs No. 6 Rochester Century
(Winners meet in semifinals.)
Saturday, February 19 at Mayo Civic Center, Rochester
Finals, 2 pm
Section 2A
Thursday, February 17
No. 8 St. Clair vs No. 9 Madelia-Truman/Montgomery-Lonsdale, at Chatfield
(Winner versus No. 1 Chatfield.)
No. 5 NRHEG at Bo. 4 Blue Earth Area
No. 6 Lake Crystal-Welcome Memorial versus No. 3 Westfield, at Blooming Prairie
No. 7 WEM/JWP at No. 2 Medford
Saturday, February 19 at St. Clair High School
Semifinals at 2 pm; Finals at 4 pm
Enter your number to get our free mobile app
LOOK: Here is the richest town in each state
Just saying the names of these towns immediately conjures up images of grand mansions, luxury cars, and ritzy restaurants. Read on to see which town in your home state took the title of the richest location and which place had the highest median income in the country. Who knows—your hometown might even be on this list.