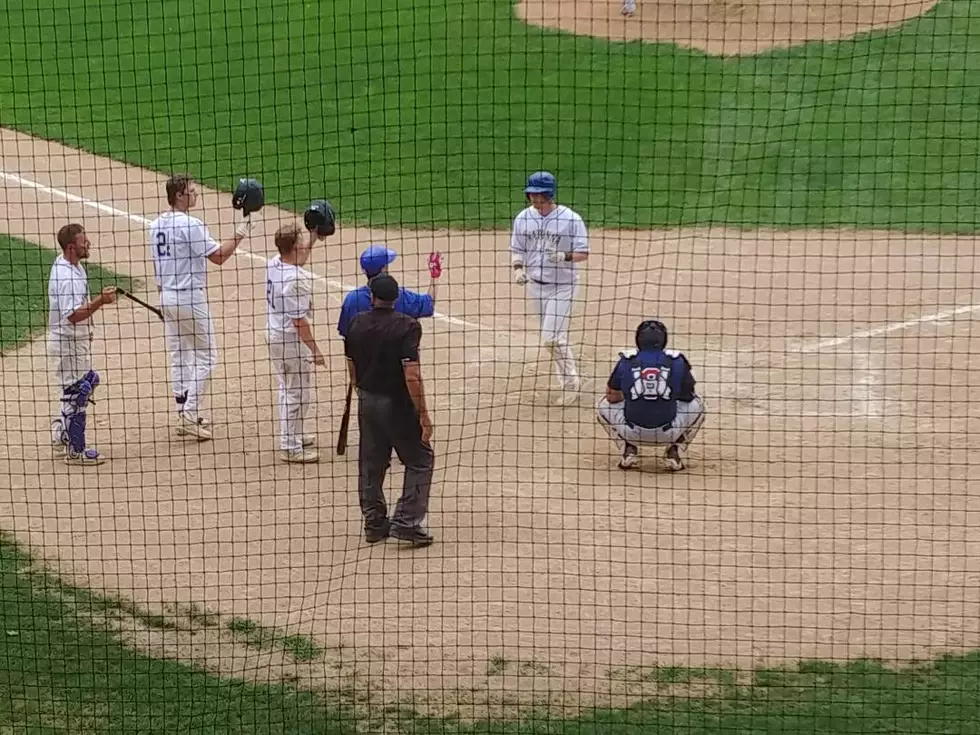 Austin Rallies for Wild Win Over Owatonna in Town Ball
Roy Koenig/TSM
Sunday's game at Fuller Field at Dartt's Park in Owatonna had plenty of everything and anything you could expect to see at a game. The Aces built a quick 9-1 lead after three innings. But the Austin Greyhounds rallied for a 16-12 victory in a game that lasted nearly three-and-a-half hours. In addition to the 28 combined runs, the teams stranded a total of 29 runners on base. The Hounds outhit Owatonna 19-16.
Austin was working through their batting order for the seventh time when they scored four times in the ninth inning to break a 12-12 tie. Owatonna put their first two batters aboard in the bottom of the inning to fire up the crowd in the grandstand. A double play snuffed the rally.
Kodey Kiel went 4-for-5 plus a sac fly. He drove in runs in his first five plate appearances, capped by a two-run line-drive home run over the left-field fence in the seventh inning that tied the game at 12-12. He made a spot start in right field and registered the first four outs for the home nine. Kiel later played third and pitched as Owatonna had a short roster for the day.
Payton Beyer singled in his first four plate appearances, on the first pitch each time. He scored three times and drove in two. Matt Seykora had a three-hit day.
Austin got at least one hit and a run scored from every batter in the order. Tony Ciola, who pitched the final inning-plus for the win, reached base six times and scored five runs. Alex Ciola and Eric Torres had three hits apiece.
Owatonna hit into a unique double play in the fifth inning. With runners on the corners, a line drive was caught by the left fielder who threw to third to try to double off the runner. While that guy got back to base, the runner from first had gone too far to second and was doubled off, making for a 7-5-3 double play.
Five Aces' pitchers threw a combined 207 pitches. Cody Johnson breezed through the first three innings on 35 pitches before he had to pull himself from the game in the fourth. The Hounds got through the game on three pitchers on a total of 152 tosses. Riley Retterath pitched four-plus innings of solid relief for Austin.
The Aces play at Stewartville-Racine Wednesday, July 13, and at Waseca Friday, July 15.
A busy week of baseball at Fuller field includes a VFW doubleheader Monday, July 11 starting at 5 pm. Tuesday the VFW and Legion host games. The VFW tournament is Saturday, July 16 at Dartt's Park.
Picture-Perfect Home for Entertaining Now for Sale in Rochester...and it even has a pool!
One of the best homes on the Rochester, Minnesota real estate market right now is a home that was just put on the market that looks practically brand new! Oh, and it comes with an amazing outdoor area WITH a pool that everyone in the family will love!
According to Realtor.com, 3443 Limerick Ln NE in Rochester, Minnesota is currently listed by Andrew Atwood with Century 21 Atwood Rochester for $665,000. It was built in 2005 but everything thing about this house looks like it is practically brand new. The entire home features more than 3,000 square feet, 4 bedrooms, 3.5 bathrooms, and has one of the most amazing garages that a car enthusiast will love!