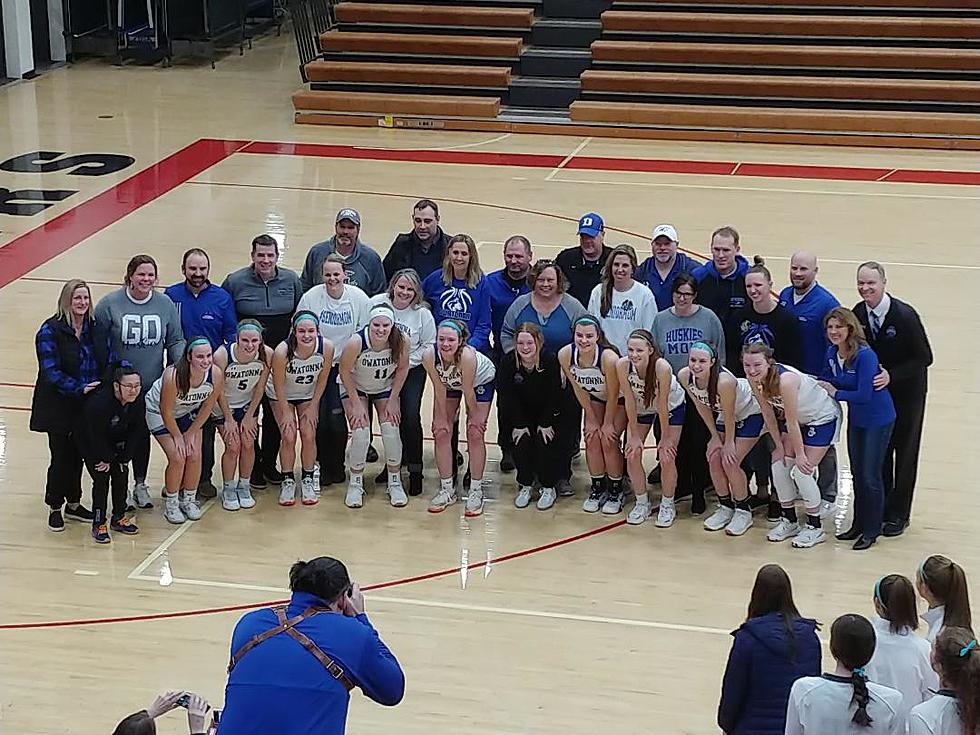 10 Owatonna Seniors Bid Final Farewell to Basketball Court
Roy Koenig/TSM
The hugs and tears lasted a while past the final buzzer. However, the large class of Owatonna High School girls basketball seniors put on a smile for a final family group shot on the court at Lakeville North High School after a 72-36 Section 1-4A quarterfinal loss on Wednesday night. With ten senior players and two senior managers, OHS basketball will undergo a big turnover next season.
This season ended against a balanced and fairly young Panthers' squad, which has just three seniors. North jumped ahead 15-2 and led 21-8 when the Huskies went on a 9-1 run mainly on successful free throw shooting to pull within 22-17.
The Panthers closed the first half on a 15-5 run to take a 37-22 halftime lead. North outscored Owatonna 22-6 to start the second half for a 59-28 lead.
Owatonna shot only about 33-percent in the first half, compared to North's 50-percent. The Panthers had roughly a 2-to-1 rebounding advantage by halftime. Six-foot-three sophomore Trinity Wilson ended the night with 14 points and at least ten rebounds. Twelve players scored for North (18-9). Owatonna ends their season at 11-16.
Owatonna seniors and their post-high school plans based on notes from their recent Senior Night:
Avery Ahrens - University of Wisconsin LaCrosse, pre-physical therapy
Holly Buytaert - UW-LaCrosse, math degree
Hillary Haarstad - UW-LaCrosse, marketing
Morgan Miller - Nursing
Lexi Mendenhall - North Iowa Community College and will play basketball
Ashley Schlauderaff - UW-LaCrosse, Pre-OT track
Taylor Schlauderaff - Gustavus, psychology and will play soccer
Ari Shornock - University of Northern Iowa, accounting
Audrey Simon - UW-Madison, marketing
Lauren Sommers - UW-River Falls, elementary education
Kya Dixon (manager) - Concordia-St. Paul and compete in track
Annie Thurnau (manager) - STEP program
Results from Section 1-4A quarterfinals
No. 1 Rochester JM 52, No. 8 Northfield 38
No. 4 Lakeville South 60, No. 5 Century 38
No. 6 Farmington 68, No. 3 Mayo 60
No. 2 Lakeville North 72, No. 7 Owatonna 36
Semifinals, Saturday, March 5
Lakeville South at Rochester JM
Farmington at Lakeville North
18 Annoying Things that People in the Midwest are Doing
You know those Post-it notes that you used to put up on your mirrors or around your house to remind you of different things. Well, some people in Minnesota, Iowa, and Wisconsin could use a whole pile of those to put up all over their world because they need some refreshers on a few basic things. Most are about driving but there are a few other moments in life that you'll realize annoy you too.