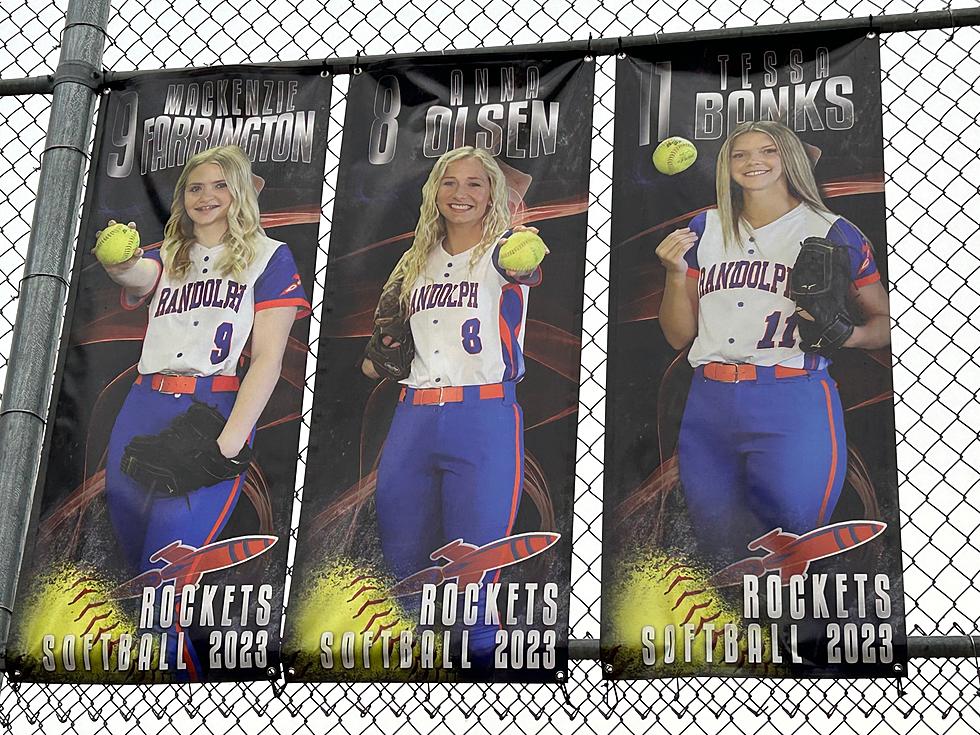 Randolph Softball Two Wins From State
Randolph Senior Posters 2023. Photo b y Gordy Kosfeld
Most Section fastpitch softball tournaments in Minnesota high school competition begin this week.
Section 4A is nearly done with their tournament with State scheduled for June 8 and 9 in North Mankato.
The Randolph Rockets have been rated #1 all season in Class A.  Saturday the Rockets defeated Mayer Lutheran 9-0 and PACT Charter 11-0 to improve their record to 20-1.
The Gopher Conference Champions pitcher Carter Raymond, sophomore, threw a one-hitter against the Crusaders with no walks and 17 strikeouts.
Carly Kimmes, junior, had 3 hits including a solo home run, triple and double.  Raymond, a pair of hits and 2 RBI.  Tessa Banks, senior, 2 hits, 2 RBI.
Randolph had 11 hits in the game and only one strikeout.  The Rockets had 5 stolen bases led by Vienna Anderson, sophomore, with 2.
Raymond threw 83 total pitches in 7 innings with 67 strikes while facing one batter over the minimum.
In the Pact Charter game, Raymond achieved a two-hitter with 7 strikeouts and no walks.  She threw 66 pitches in the five-inning game with 50 strikes, Facing two batters over the minimum.
The Rockets cranked out 11 hits with four players getting multiple hits.
Kimmes had a double and triple and 4 RBI.  Kylee Cary, sophomore, two hits including a double with 2 RBI.  Raymond two hits, 1 RBI.  Allie Gillette, freshman, a double, triple and 2 RBI.
Ella Banks, sophomore, smacked a double for 2 RBI.
Randolph, the top seed in Section 4A will play at home according to the bracket against #2 seed West Lutheran on Thursday, May 25, 2023.  If they win that semifinal game the title contest is Wednesday, June 1, 2023, at Northwestern University in Roseville, Mn.
On the other side of the bracket #6 seed Lester Prairie upset #3 New Life Academy of Woodbury 11-3 before losing 10-0 to West Lutheran.
#7 seed Heritage Christian then rolled over New Life 20-7 to end their season.
Heritage Christian will play at Lester Prairie Tuesday in Elimination Bracket game,
Braham dominated Mayer Lutheran 11-1 and hosts Heritage Christian Tuesday, May 23, 2023.
Section 1A West Subsection has Faribault Bethlehem Academy the #1 seed opening against Lyle/Pacelli May 22, 2023 at Alexander Park North Diamond #3.
The Cardinals crushed the Athletics 18-0 Friday to end their regular season with a 15-1 record.  Seven times they have scored double digit runs.
Friday Reagan Kangas had 3 hits and a stolen base while scoring a run.  Sarah Tobin cracked 3 hits with 2 doubles 4 RBI, scored 4 runs with a stolen base.  Anna Tobin clubbed 2 hits including s double. Josie Rose had 2 hits, 2 RBI.  Caitlin Bothun 2 hits including a double and 2 RBI with a stolen base.  Kate Trump smacked a 2 RBI double and had a stolen base.  Morgan Wilson had a hit and 2 RBI.  Lindsay Hanson a hit for an RBI.
Wilson allowed no hits over 3 innings, striking ourt 7 L-P batters.  Sarah Tobin pitched the final two innings allowing 1 hit and striking out 3 batters.  Wilson threw 33 pitches, 27 strikes.  Tobin had 19 pitches, 15 strikes.
Kenyon-Wanamingo received the #2 seed with 7 wins following a 10-6 victory over Triton Thursday.  The overall record is 7-9.  The Knights host Glenville-Emmons/Alden-Conger (4-14) Monday, May 22, 2023.
GE/AC has allowed double digit runs in 12 of their 14 losses.  The Wolverines 4 wins include 2 against winless Schaeffer Academy.
#3 seed United South Central (11-5) lost to K-W 2-1 in Wells early in the season.
The Rebels will have Janesville-Waldorf-Pemberton come to Wells Monday, May 22, 2023.
#4 seed Hayfield (7-9) hosts #5 Waterville-Elysian-Morristown (8-7).  My guess is the Vikings got the #4 seed because they defeated the Buccaneers 2-1 in their season opener.
Top two teams from each Subsection play for Section title in Austin.
The Section 1A East Subsection looks like this:
Top seed Southland   5-1
#2 Houston     12-3
#3 Wabasha-Kellogg    7-12
#4 Goodhue        6-12
#5 Rushford-Peterson     5-14
#6 Mabel-Canton   7-8
#7 Fillmore Central/Lanesboro    1-19
#8 Spring Grove   4-9   after defeating Schaeffer Academy in play-in game.
Section 2AA seeds all the teams with byes for the top and #2 seeded teams.
#1 seed New Ulm    12-5
#2   Fairmont     17-2
#3   Belle Plaine    16-4
#4   LeSueur-Henderson     15-5
#5   Lake Crystal- Wellcome Memorial     16-4
#6   St. James     14-5
#7   New Richland-Harland-Ellendale-Geneva     9-7
#8   TriCity United    v 8-7
#9   Waseca      7-10
#10   Medford     5-11
#11   Maple River   5-12
#12   St. Clair-Loyola    4-12
#13   Sibley East    3-13
#14   Blue Earth Area   2-16
Section 1AA has the East and West Subsections get to the top two in each Subsection then play for Section title at Todd Park in Austin.
West Subsection seeds are:
#1   Zumbrota-Mazeppa     16-4
#2   Cannon Falls    14-4
#3   Dover-Eyota      8-6
#4   Pine Island     8-7
#5   Blooming Prairie   10-8
#6   Rochester Lourdes    6-12
#7   Triton        3-15     they defeated GMLOK 10-0
#8   GMLOK     7-11
East Subsection went like this:
#1   St. Charles   18-2
#2   Cotter/Hope Lutheran    14-3
#3   Chatfield    13-5
#4    LaCrescent    14-6
#5   Lewiston-Altura    12-7
#6   Caledonia     10-10
#7    Plainview-Elgin-Millville    9-10
#8   Lake City    5-13
Unbreakable Sports Records and the Athletes That Set Them
There are just some sports records so amazing that it's unlikely any other athlete will even be able to approach them.